Large and Mid-size organizations today are trying to act like startups. They outsource software development to implement lean methodology in their curriculum or trying to implement with their development teams. Lean methodology is not something new which enables scaling of the core benefits to the entire organization. Here's a Devops Services's framework from IBM which I would consider a good example.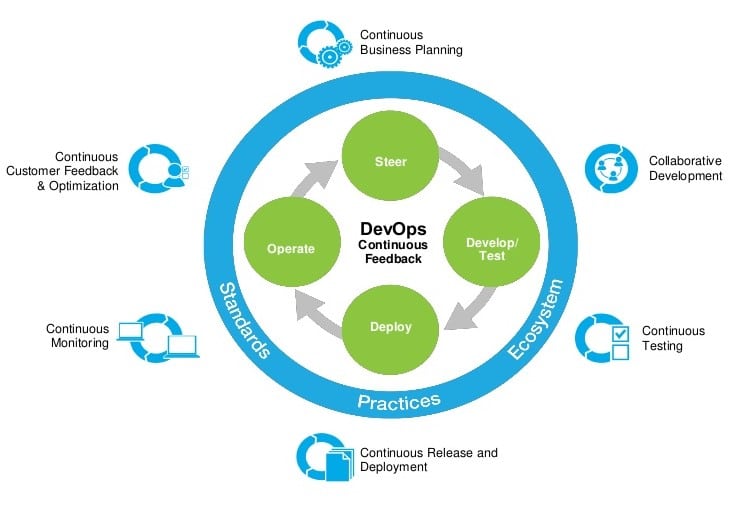 More often we have seen that these initiatives are kept confined within the IT or Engineering side of the house. Let's discuss key areas where the Business needs to engage to truly scale these benefits to the organization level.
First, let's try to define what exactly being "lean" is:
We understand that the goal of "lean" is to eliminate waste, defined as any component of a process that does not add value. As a result, to be able to operate faster, easier and more efficiently. However, the truth is that most organizations today (especially big ones) are facing the operational challenges which is not so easy to root out by just eliminating a specific process from the hierarchy as they are somehow linked to each other.
The very core of Lean thinking has always been systematically finding ways to create more value for people (customers, employees, shareholders) with fewer resources (money or time) by improving the flow of work. Simply put, Lean comes down to continuously looking for ways to improve business processes and do more with less.
Let's discuss few pointers to improve business processes:
Focus on your customer: A customer doesn't have to be a person who buys your product or services but it could be a boss, a co-worker or a contract vendor. The fact is the latter manages the former. In this step, you simply want to get clarity on what your customer wants, and how you think you can provide it better, faster and at less cost.
Just Observe : Let a third party who is neutral, who doesn't know anything about your process observe carefully as to what's happening and record what they see in as much granular detail as possible. From there, ask them to provide you with their observations and any suggestions they may have right off the bat. You might be surprised with his observations as you may realize that people generally side step processes, bring their own personal pudding to the meal.
Remove inefficiencies: Keep a close eye on the process and work flow. The focus is to remove blockages and make the custom software development operation smooth. Look for the weak links and try to replace or train them harder to attain more productivity.
Data Analysis: Analyzing the data every day or on a weekly basis is the need of the hour however having enough data is a key. This report should give you insights regarding things taking less time or more to get done? Is the quality of the work being performed improving or not? What's working and what's not working? Be patient. No one really knows the outcome of the game based on the score in the first minute. Let your new process run for enough time in order for you to make decisive decisions and changes with confidence.
Empower people: The times are changing with emerging technologies. In our personal life, we so much want to acquire enough technology to make our lives better then why not at work? Cloud is the best example here. Organizations that leverage cloud migration services are growing at a tremendous pace or you can use it the other way around which is – To help you sustain the pace of growth, you need to be technologically strong and it all begins with the root which is the other "P" i.e. people. I would rate 'people' highly then 'process'.
Reviews & ratings: We recommend that people actually plan and schedule recurring and regular reviews of their processes or workflows. How often? Of course, the answer is, "It depends". However, as a general rule, we recommend reviewing business-critical workflows monthly, quarterly and annually. Of course, you have to decide the value of your process to your job and the company, and schedule its evaluations accordingly.
x
Have a tech or business challenge?
We can help!