How We Help Organizations Seamlessly Orchestrate Containers with our Kubernetes Consulting Services
Assess the readiness and maturity of business processes for reliably running Kubernetes clusters. Compare current processes to industry standards, conventions, norms, and best practices
Create a roadmap of a successful Kubernetes initiative. Audit existing products and build a plan. Avail expert guidance through Kubernetes workshops and training. Cover the process of Assessment, Discovery, Audit, and Reporting
Build cloud native applications in Kubernetes with industry-standard setup practices
Use our premade playbooks for common infrastructure management across various cloud providers. Our templates automate Kubernetes setup and operations with KOps
Institute standardized, validated business processes for the development ecosystem
Leverage standardized best practices to support Kubernetes cluster debugging. Use the deep expertise that our engineers possess in battle tested tools, validated across multiple enterprises, teams, and use cases
Ensure increased productivity with CI/CD automation, improved stability with Git's capability to revert/rollback and fork, higher reliability with a single source of truth from which to recover after a meltdown, and cryptography-backed security
Enable changes in git repository to be automatically applied to your system
Get alerts when there is any divergence between the declarative single source of truth in your Git repository, and the code running in a cluster. Update or rollback clusters automatically with Kubernetes reconcilers
Implement a service mesh architecture to enhance communication among various services of an app, independent of business logic
Run modern server-side software that is reliable, secure, and observable with service mesh features that apply across services regardless of details of development or deployment
Orchestrate service mesh proxies with Kubernetes and decouple the service mesh from application code. Ensure granularity in multicloud operations
Build reusable abstractions and dynamic clusters in order to reuse and adapt strategies across projects and departments
Ensure resiliency, cost optimization, and scalability with Kubernetes. Run containers on multiple machines, operating systems, and environments, including virtual, physical, cloud-based, on-premises, and hybrid
Orchestrate multiple clusters across geographical regions. Scale applications, maintain a cluster's state, and seamlessly roll out updates
Get expert help in selecting and installing the optimal Kubernetes distribution based on your technical and business needs
Decide your Kubernetes distribution based on factors such as storage needs, on-premises or cloud architecture, and edge deployment, automated upgrades, and networking support
Get specialized Kubernetes distributions and avoid vendor lock-in when using multiple cloud service and storage providers in a single network architecture
Receive consulting services about running ML models in production quickly, securely, and cost-effectively. Enhance flexibility in varied machine learning frameworks
Accelerate delivery pipelines with training, debugging, deployment, and monitoring. Relay business needs and data feedback to ML models running on production data
Streamline collaboration among teams involved in the ML lifecycle, including business, data science, and IT. Effectively use diverse skills and tools
Implement security best practices for the 4 Cs of cloud native security – Cloud/Co-lo/Data center, Cluster, Container, and Code
Enhance security management with Kubernetes's own tools or third-party tools such as Anchore, Aqua, or other tools in line with your needs
Ensure automatic updates for security best practices. Securely sign, scan, deploy packages, and administer clusters. Use cost-effective managed services providers such as AKS, Amazon EKS, or GKE for default security configurations
Use our systems, tools, and Kubernetes expertise to collect insightful metrics about logging, monitoring, and tracing
Maintain a detailed log and audit trail about transactions across clusters, nodes, and machines. Monitor application performance and visualize related data with tools suited for your personalized needs
Get business metrics that assign a dollar value to the transactions logged, thus going beyond just technical metrics
Get Expert Guidance For Your Project
What can you do with Kubernetes?

Which Benefits do our Kubernetes Consulting Services Bring to your Organization?
Scale your operations as your organization grows
Expand your reach with automation and orchestration capabilities, without needing to increase the number of DevOps team members
Run on the same principles which allow Google to run billions of containers per week
Use Kubernetes on any type of underlying infrastructure, from on-premises to public cloud, private cloud, or a hybrid model
Host workloads running on a single cloud as well as workloads running on multiple clouds. Scale from one cloud to another and ensure robust disaster recovery mechanisms
Work with any type of runtime. Automate deployments and cluster management with AWS, Ansible, Terraform, and more
Achieve reliability and stability with a personalized configuration of Kubernetes clusters, DevOps practices, and a tailored user experience
Embrace ephemeral containers and Kubernetes pods with cloud native architecture that ensures scalability, reliability, and cost effectiveness
Ensure stability and availability by avoiding a single point of failure. Schedule application containers across multiple nodes and spread applications across the Kubernetes cluster
Automate and orchestrate the deployment, scaling, and management of containerized applications. Build/modernize architecture so that it connects directly to business value
Manage tens of thousands of ephemeral containers that have lifetimes ranging from milliseconds to months
Mount a storage system of your choice, from local storage to large public cloud providers
Avail the best documentation and support from an active open source user community backed by IT market leaders, cloud providers, and large enterprises
Receive experience and insights for a variety of workloads, frameworks, and data processing needs
Get superior support services no matter the size and scale of your problem, from simple solution implementations to complex use cases
Build Smarter Software With Us.
Our Approach to Kubernetes Consulting Services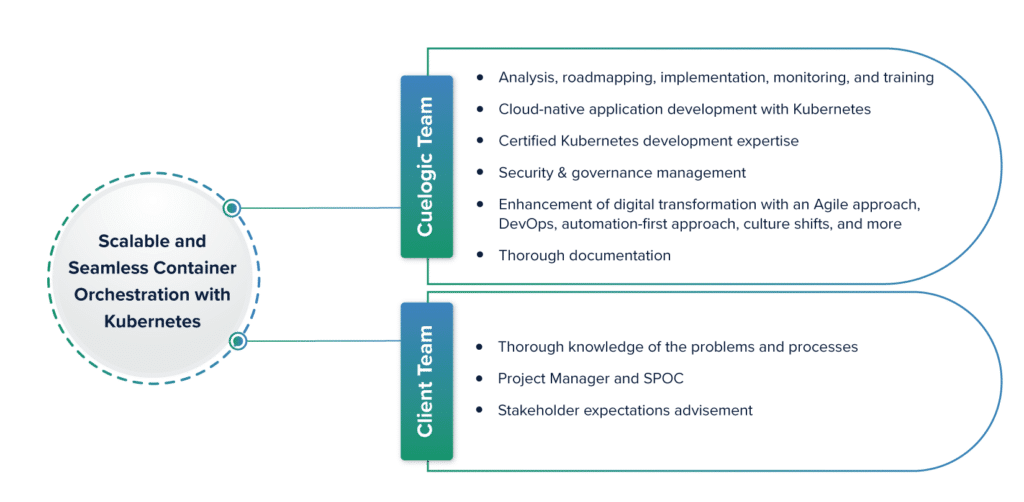 Our Process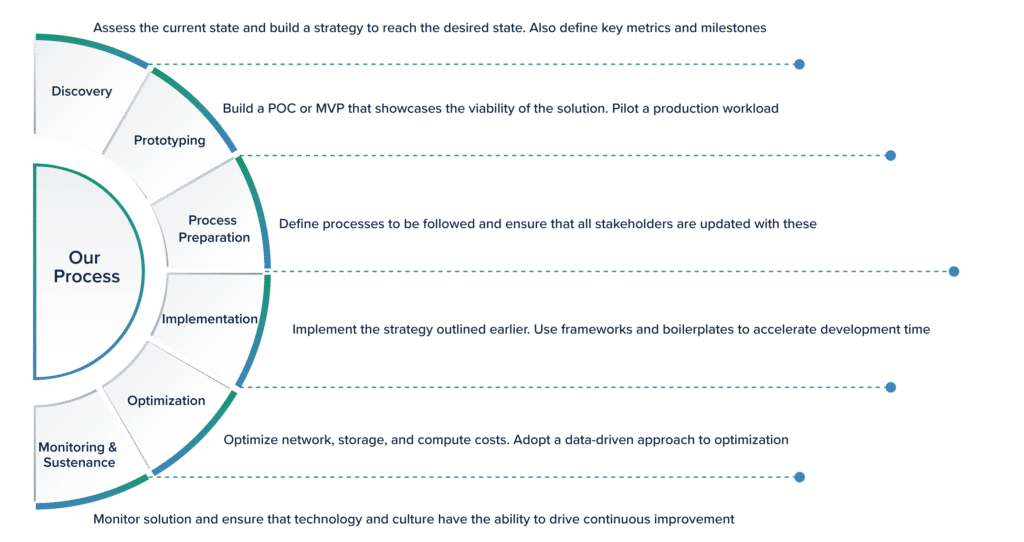 Governance & Compliance for Container Systems with Kubernetes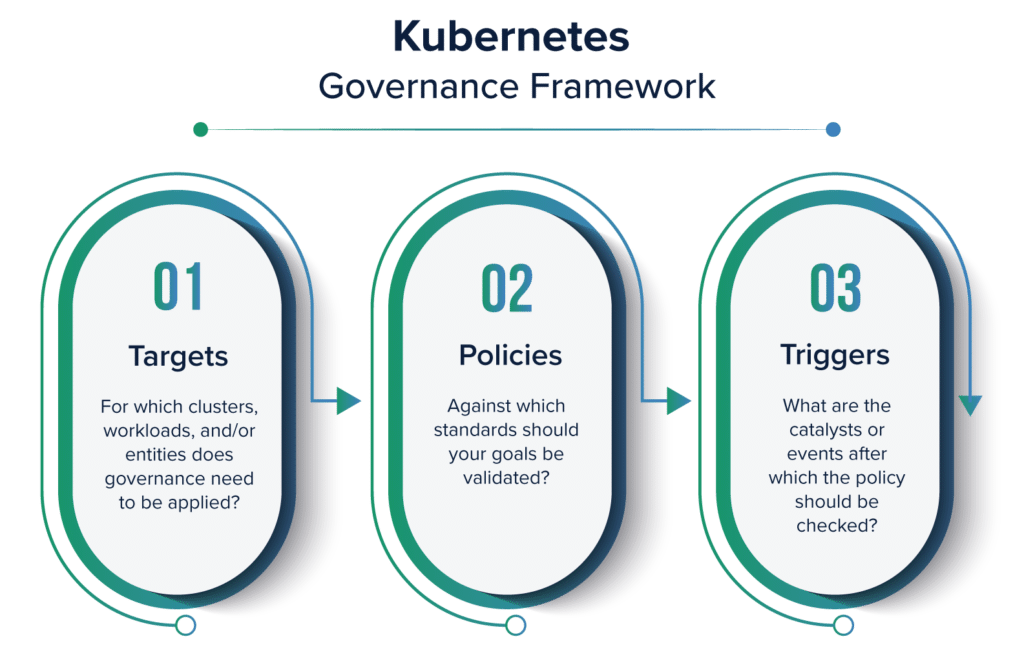 Let's Build Smarter Software Together
Get the Cuelogic Advantage with our Kubernetes Consulting Services
We've Achieved Phenomenal Results for our Clients with our Kubernetes Consulting Services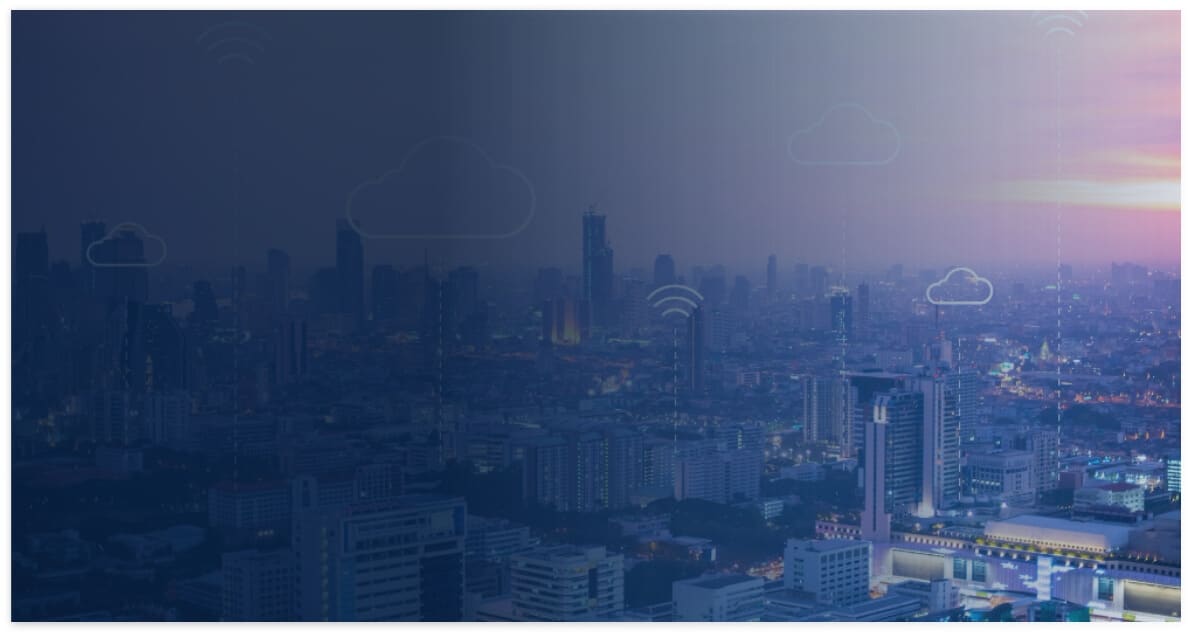 Orchestrating cloud infrastructure with Kubernetes while engineering a SIEM platform

Download This Case Study ❯
❯ Reduced cost of managing infrastructure by 4x
❯ Lowered disk costs by 3x
❯ Achieved 0 lag while processing PB-scale data
❯ Ensured BCP compliance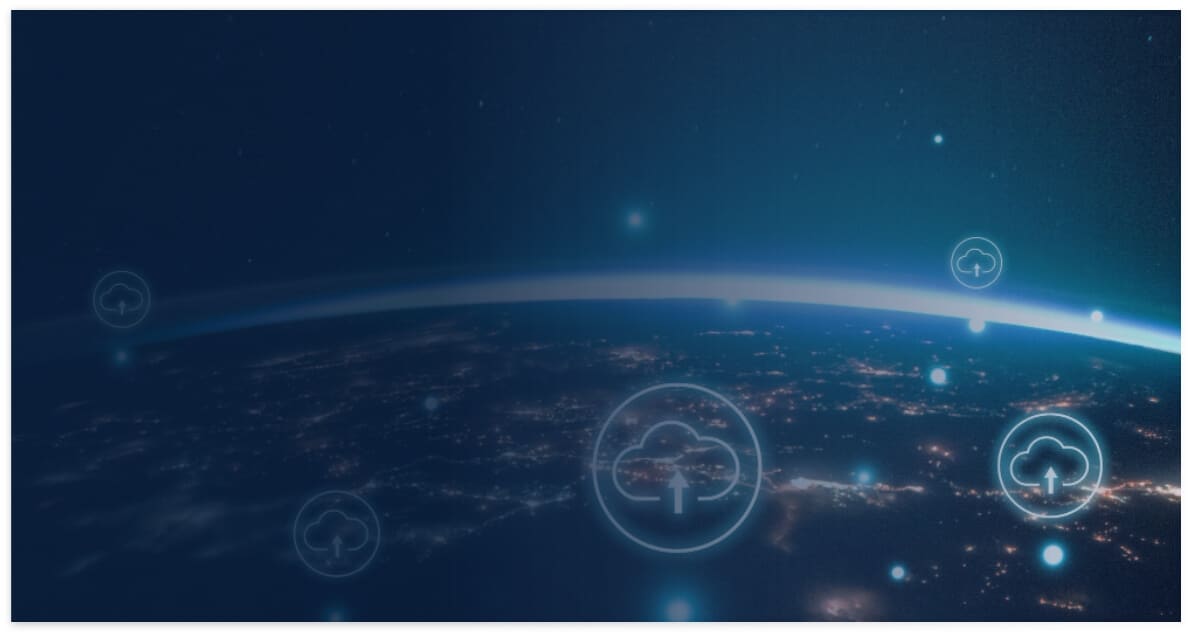 Implementing a cloud native strategy & setting up a CI/CD ecosystem with Kubernetes
Download This Case Study ❯
❯ Reduced product infrastructure management costs by 4x
❯ Built a cloud native, highly available, secured environment
❯ Increased development velocity by 20%
❯ Ensured compliance with HIPAA, ADA, and PCI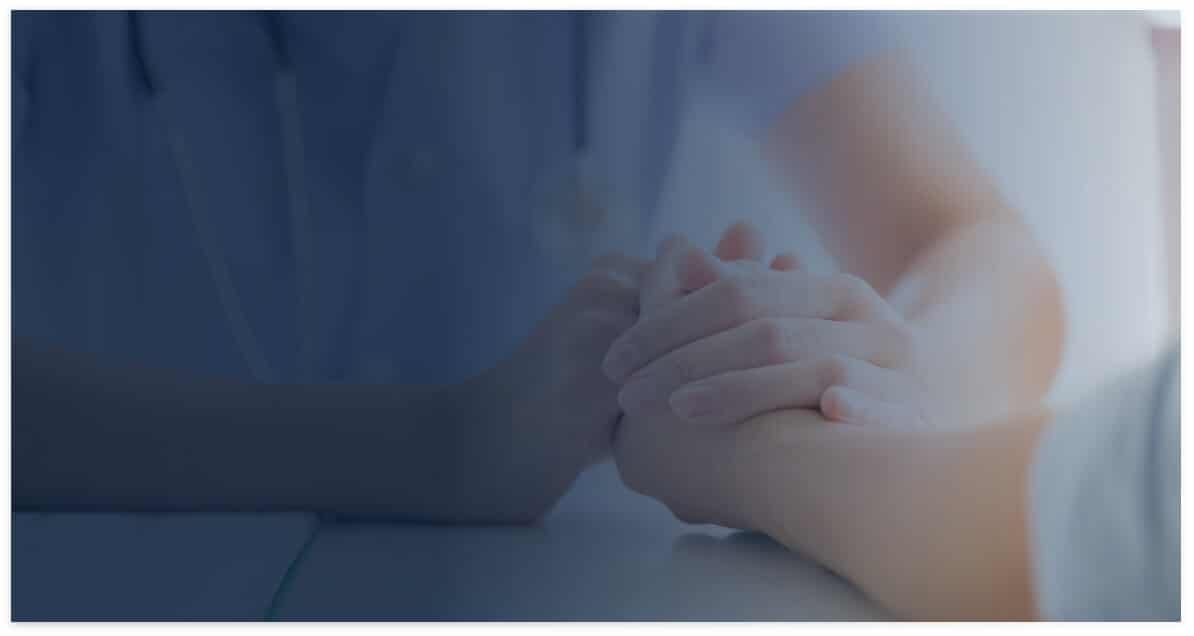 Migrating a healthcare application from Docker Swarm to Kubernetes
Download This Case Study ❯
❯ Achieved a 20x improvement in deployment velocity
❯ Lowered downtime tickets by 50%
❯ Reduced cloud costs by 30%
❯ Used Jenkins for CI/CD to Kubernetes