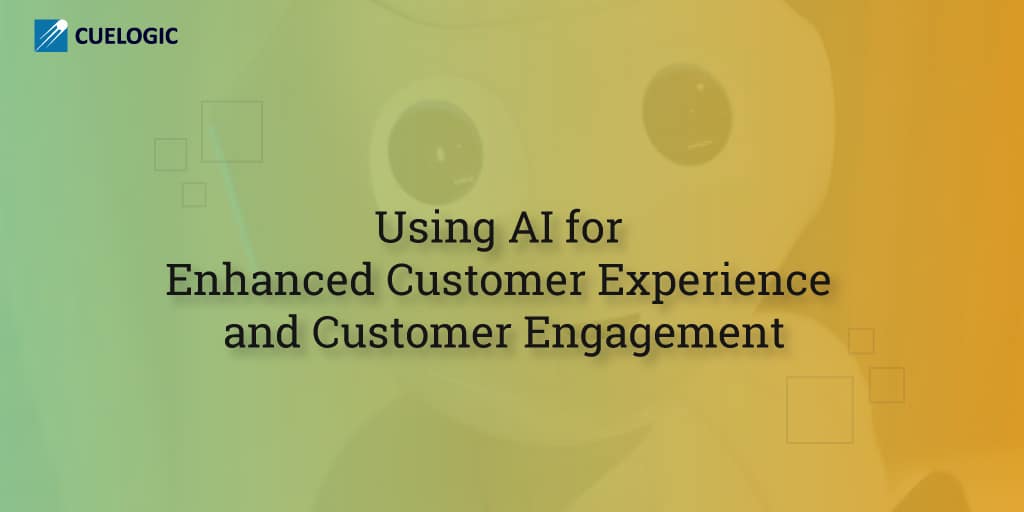 Home > Using AI for Enhanced Customer Experience and Customer Engagement
Forrester, the American market research company, defines customer experience as, "How customers perceive their interactions with your company."
Certified Customer Experience Professional and Customer Experience Specialist, Ian Golding describes customer engagement as follows,"Customer engagement is the representation of the relationship between your brand and your customer. A fully engaged customer should be engaged to the point of advocacy – i.e. they become a 'fan' of your brand."
No business enterprise in the world can succeed without two crucial things on their side – customer engagement and favorable customer experience. Yet the 2016 customer engagement statistics reveal some rather interesting insights.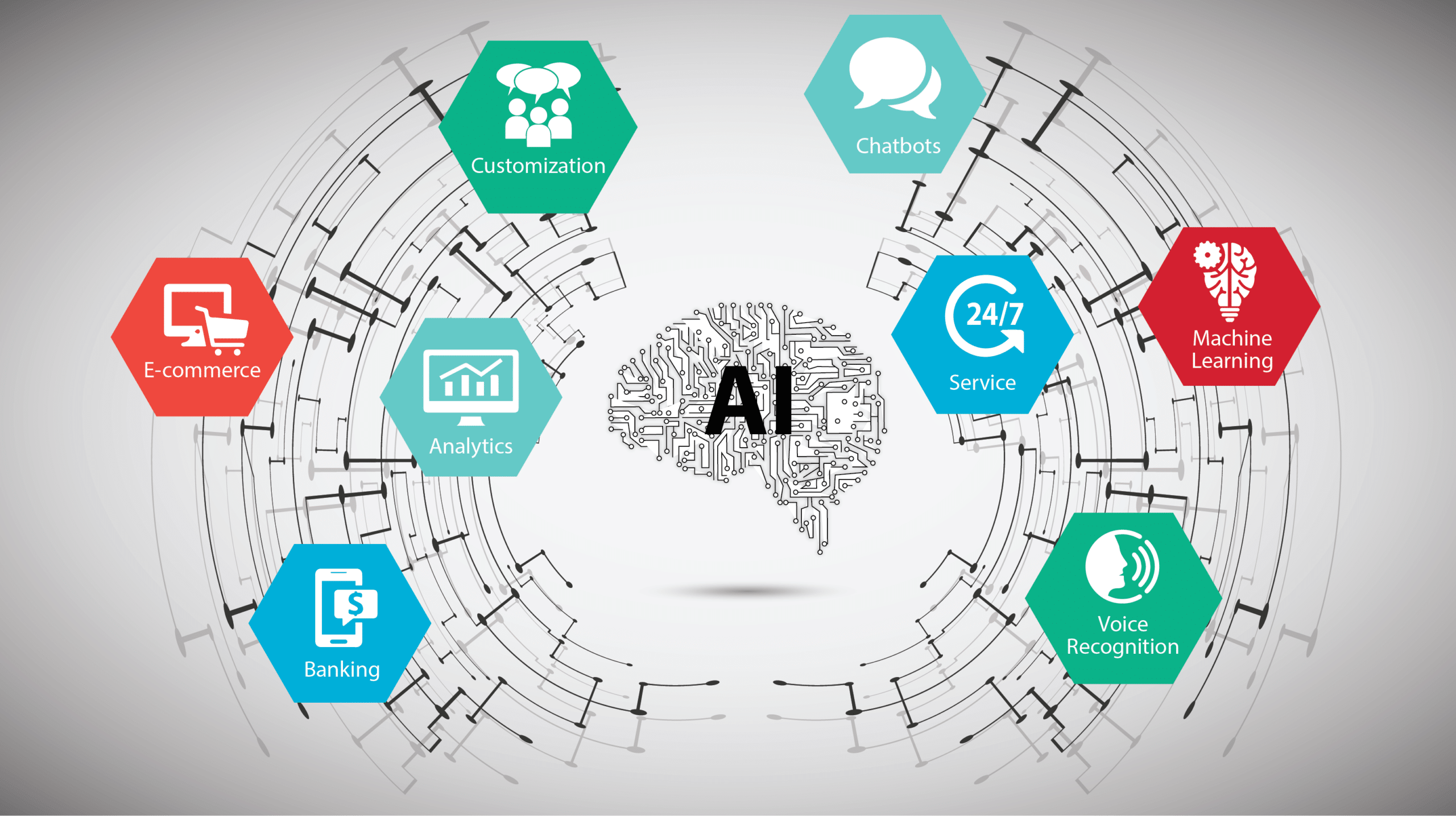 i. As per McKinsey, 70% buying experiences are based on how the customer feels they were treated.

ii. Surprisingly, 58% executives admitted to not having a customer engagement program in place, in a Convero survey.

iii. A more telling statistic is that companies with strong total customer engagement strategies retained 89% of their customers, as compared to 33%, for companies with weak customer engagement strategies.
AI and Customer Engagement
It may seem like a bizarre standout sci-fi moment, but it is true: AI is taking over the world!
i. As per Gartner, 85% customer interactions will be nonhuman by 2020.
ii. Gartner also predicts that 6 billion services and 50 billion connected things will be requiring support by 2018.
iii. Despite apprehensions about people losing jobs, 80% believe that AI improves employee performance and creates jobs (Narrative Science statistics). Yet, as things stand, as per American marketing research company, Forrester, AI will replace 16% American jobs by 2020.
iv. "Automated communications that provide data that can be used to make decisions," is AI's most important benefit. That's what 44% executives agree to in a Narrative Science survey.
v. 72% of all businesses declare that their top priority is customer service improvement (Forrester Research).
Building a data bridge through social media, combining AI and customer data enables companies to gauge customer buying habits, budget, dislikes, and even their present mood.
Going Beyond Personalization
An advanced, next generation customer service experience goes beyond marketing. The Wells Fargo Bank combined their CRM with social media connectivity to remain accessible to their 70 million customers. The CRM also ensures that customer issues are redirected to the right solution providers. With social and mobile tools, the bank could redirect its customers to over 300 of its products and services.
Boxever combines a data platform, AI and Cloud to connect all operational, product and customer data, letting you personalize every detail. Boxever absorbs every little customer data and then acts through the appropriate channels in real time. The Nest Learning Thermostat (now acquired by Google) makes use of behavioral algorithms to save energy based on your schedule and behavior.
It is not just about personalized customer experiences anymore. The experience now needs to be smarter, faster, and in the right context. Advanced big data analytics and machine learning implementation across various platforms are helping retail sector provide advanced options to its countless customers.
Elevating Voice Recognition
As per Narrative Science, 32% executives claim that voice recognition is the most widely used technology in the world.
Amazon Echo is a prime example of popular voice recognition services. Over 3 million units of Amazon Echo have been sold in the last 18 months. Alexa, the addressable voice allows you to order from the entire Amazon product list, without picking your smartphone. Alexa can now develop skills to perform new tasks, thanks to Amazon's developer platform.
The first UK banks to offer voice recognition, HSBC and Santander enabled advanced facilities to its users. Customers can now report lost cards, make payments, and pose account related questions.
Artificial Intelligence is among the most adapted methods for voice recognition. While it is a fact that no technology can compete with human listener accuracy, AI can help recognizing speech patterns with great precision. Important speech recognition stages via AI includes speech unit representation, development, and formulation of recognition algorithms and demonstration of correct speech inputs.
Chatbots 2.0
Almost every other company is the world is considering the use of a virtual assistant or a chatbot. Select companies are getting it right though in terms of user engagement. Companies that got it right emphasize on experience design. For example, the team behind the chatbot SPIXII, used AI to re-design the bot for a customer-centric experience, re-thinking on how customers and insurers interact. The result is SPIXII, a sophisticated, prompt-answering, no-nonsense chatbot.
Apple's Siri is a virtual assistant with a personality. Just like Alexa, Siri takes in your vocal commands, interprets, and then attempts completing the task. Natural Language Processing and AI combine to make Siri's comforting, human-imitating conduct. NLP makes Siri intuitive, as much as it is possible for a machine to be.
Watch this video on driving customer engagement for e-commerce chatbots.Online Shopping, Upgraded
Despite the apparent ease of online shopping, personalized, choice-based shopping is still evolving. AI continues to reduce the gap. For instance, the online apparel store, The North Face offers insightful questions to its customers like, "When will you be wearing this coat?" Customer answers to similar perceptive questions shed more light on customer-product equations. Pinterest Lens pushed the bar by letting the customer point at a pair of shoes or a chair and then helps you find it online.
Businesses are using subtleness to engage the customer online, rather than coax and push them to buy products. Taking the hint, Adobe has created an image-editing tool that allows users design images of their favorite products. It's like confronting the undecided, hesitant customer with a gentle reminder to buy what they like more often. Watch this video on AI and the future of customer experience.
Summary
The advertising, marketing and public relations agency, Ogilvy & Mather have an important point to make. They emphasize on remembering our humanity while using AI. Otherwise, without the emotional connect, customer disengagement is a potential risk. They suggest the following points for better customer engagement:
i. Clearly defining AI's role in the organization.
ii. Using AI to complement the experience, rather than replace or substitute it.
iii. Do not spend big on AI, instead focus on little things that improve customer experience, via AI.
iv. Let it be clearly communicated to the customer what they must expect and what they are not to expect with AI.
v. Customers should always know whether they are interacting with a human or an AI system. AI decision-making must also be elaborated on when the need arises.
Thus, concludes our article on enhancing customer experience and customer engagement through AI. You are welcome to share your views as comments to this blog. Visit our blog page for the latest on all things tech.
x
Have a tech or business challenge?
We can help!