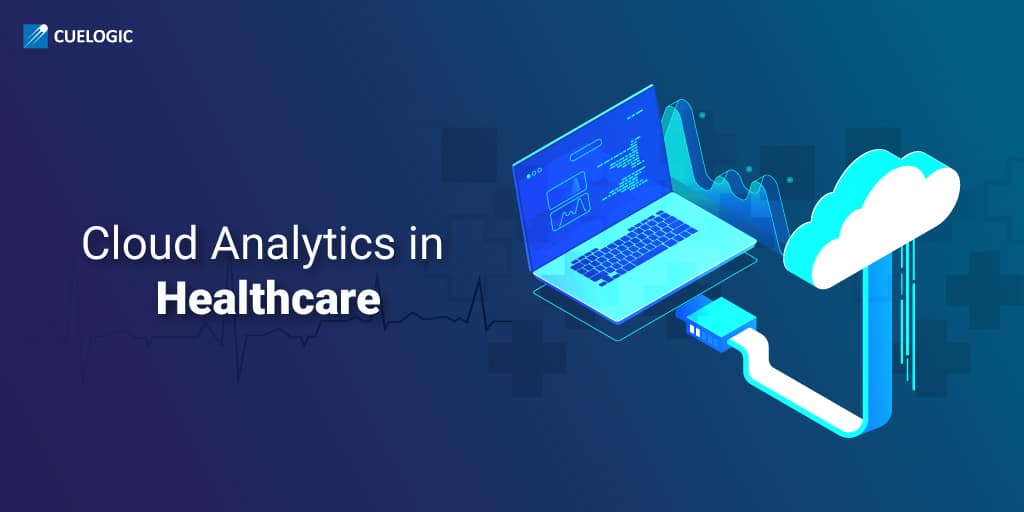 Home > Cloud Analytics in Healthcare : How can it provide real world intelligence?
Cloud analytics refers to a service which helps to analyze the vivid evolution of /s models and demonstrates strategies and techniques for cloud services. It helps to track the value generation of 'IaaS' and 'SaaS' cloud service and how cloud providers are contributing to the channels.
"It is an amalgamation of technological, infrastructural, analytical tools and techniques to help clients derive necessary information from a massive dataset."
It is a very carefully and meticulously designed approach for obtaining a perception of the chosen dataset and create formal statistical data which can be categorized and modified according to your needs. Regard it as a business intelligence process which happens in collaboration with the cloud service you are utilizing.
Practical applications of Cloud Analytics in Healthcare Sector
With our clients, we have observed that they are very convenient and comfortable in collecting prospective data but bear a lacking in capitalizing appropriate advantages for improving clinical practice culture.
To get rid of this deficiency – artificial intelligence, machine learning, perspective, and predictive analysis enable the healthcare sector to optimize more data-driven results.
Take for example cloud analytics through the method of electronic records that are widely incorporated in specialized hospitals and nursing homes to maintain clinical logistics. The analytical process adapted in these hospitals and nursing homes will propagate the enactment of real-world evidence-based medicines and treatments which is the ultimate ambition of the sector.
Hospitals and clinics achieve real-world, evidence-based decision-making authority using cloud analytics. This is along with witnessing a constant development in patient health and hygiene which is supported by the nourishment of patient care facilities.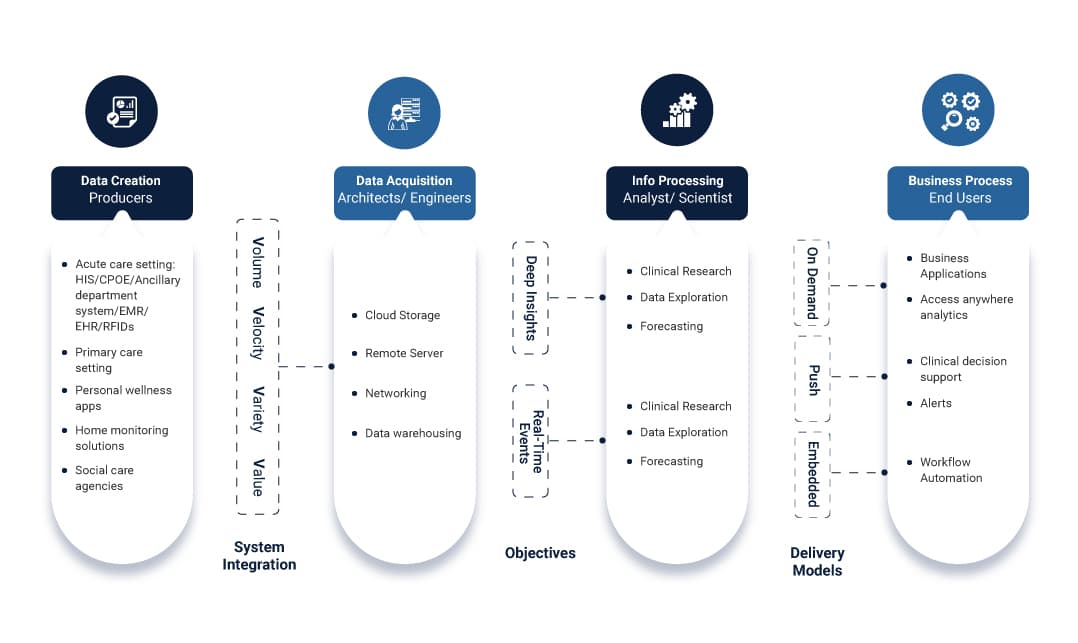 Another significant advantage of cloud analytics is minimizing the expected cost and secondary expenses. Diligent architecture solution has seen infrastructure cost reductions by 40%. Performance solutions driven by cloud analytics system helps improve patient experience, recurring savings, and implementation of modern revenue systems to monetize data.
What is driving Cloud Analytics in Healthcare Sector?
Widespread adoption of EHR, digitization, an increase in funding for innovative delivery solutions have ensured that the healthcare sector ushers into a new data-driven, digital era. However, the industry is also plagued with challenges including cybersecurity and talent availability.
Despite the challenges, the healthcare analytics market is set to hit $5 billion by 2020. It means organizations are already using data to invent futuristic solutions, deliver better quality and improve RoI.
Cloud-based analytics is primarily driven by margin pressure, and it implicates deliverables to focus on the outcomes which can be continuously improved.
The submerging of new data obtained from the other connected devices, the Internet of Things and wearables are creating valuable opportunities for portraying ameliorated insights.
Patients are now demanding better care and experience. It can only be achieved by personalizing the experience and knowing patients better, i.e. analyzing patient data.
Cloud Analytics is also being used for cybersecurity. Organizations are using data to understand vulnerabilities in the system and protect their data better.
With patients becoming digital and adoption of technology, analytics helps to create a better roadmap to reach the patient and find newer ways to deliver care.
Implementing Cloud Analytics – Checklist
How will you access the cloud?Do you already have an on-premise infrastructure or do you leverage providers like AWS, Azure, GCP, etc. Setting up analytics for different systems will be different. While on-premise requires customization, with cloud computing services providers a lot of integration comes standard and with time automation can be achieved to reduce manual interventions.
What are the specific data requirements and how will you access it? What data you require to collect and what is your plan/channel to access it. With the healthcare industry, because the information is so sensitive, there are compliances (HIPAA, FHIR, etc.) that needs to be looked at and built into the system.
What problems will you like to see solved?The most important question of it all. What business intelligence you require? Is it extremely critical for you to get real-time data or not? What knowledge you are looking to derive and who are the stakeholders and how you can simplify information for them.
How will you go about access and cybersecurity? Another critical question. What are your plans for cybersecurity? For on-premise, there is a different playbook than off-premise. Who are the stakeholders who will get access to this data? How can you restrict data theft and prevent attacks?
The Fast Lane to Analytics
The fast lane is available, albeit with initial barriers. Insufficiency of a proper ecosystem, inconsistent data, lack of talent and interoperability are some challenges that institutions often deal with while trying to achieve their analytics goal.
Another concern that needs to be mentioned is of cybersecurity and data theft. Patient data is, and before collecting and processing it, organizations need to put various threat control mechanisms and be ready to thwart attacks.
Once, the ecosystem is ready, let's talk about how you as a decision maker should leverage cloud analytics.
Traditional software models like encoding, encryption, quality checker benefit hugely by cloud-based analytics. The availability of plug and play models by cloud service providers ensure that your software and data integrates smoothly and rapidly with the cloud. With modern deployment processes like CI/CD and DevOps solutions, you can launch within weeks. Accelerated deployment directly translates to better decision making at a very early stage.
Democratizing Decision Making
With cloud analytics, comes the advantage of real-time data processing and decision making. Customized dashboards can be made for each department. Correct modeling, data integration, and evaluation will enable to showcase accurate analytics for every stakeholder. It can also give predictive intelligence allowing for transparent and data-driven making, thereby minimizing
Subjective decision making.
Specific cloud models also help to ideate and monitor the fluctuations and improvement of internal organs of a patient. These solutions have provided continuous growth in the healthcare industry as professionals can interpret and perceive the expected lifespan of the patients.
Reduced IT and Support Costs
With modular solutions that are offered by cloud-based service providers the investment in hardware and software and their upkeep has decreased significantly. Also, with a great team, you can optimize and orchestrate your cloud infrastructure that will dramatically bring down your infrastructure costs. The quality of support, on the other hand, has increased significantly and there are no additional charges to provide uptime and 24×7 support.
Advanced Intelligence and decision making
Cloud analytics will enable organizations to make data-driven decisions. Many organizations are still stuck to age-old decision-making model, which is often subjective, and people drove. This leaves them behind in the race of providing better care to their patients. With cloud analytics data integration and data modeling will allow for the incorporation of structured and unstructured data from a variety of primary and secondary sources, which will drive decision making. It will also provide insights to predict future trends and patients likenesses.
Analytics will further drive predictive learning. It will be able to provide analytical strategies a new dimension with massive data volumes, advanced and well-designed algorithms. All of this will contribute to better patient care, better forecasting, and operations.
With time machine learning will automate analytical model building as the machine itself can learn and comprehend from the data, identify the patterns and designs along with the ability to make decisions independently without any human intervention.
WIth cloud analytics, you can be assured to onboard as many users as you want, without downtime or hampering user experience. The platform can adopt a peer to peer distributed database structure which maintains a proper data management system on a cloud. It is also provisioned for constructing, exploring and storing all the necessary datasets.
Final Words
Cloud Analytics has already started to provide tangible ROIs and competitive advantage to healthcare organizations. There is a vast scope of what can be achieved through it. However, the right questions need to be asked to realize goals.
As a leader, it is imperative for you to provide the right ecosystem for development to take place, associate yourself with the right and experienced team and vendors. In our experience, organizations who can identify their required use cases are bound to succeed.
See how we can help you leverage Healthcare IT solutions.
x
Have a tech or business challenge?
We can help!