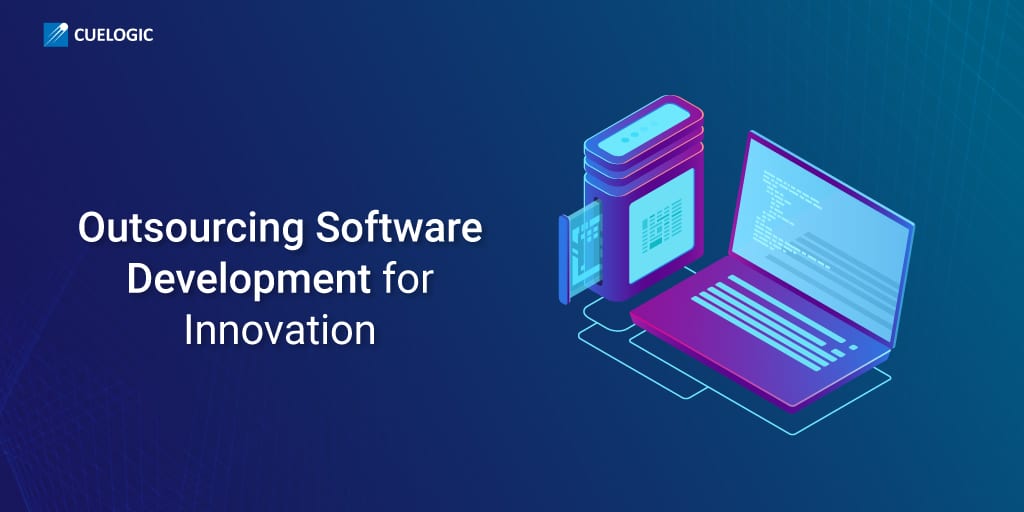 Home > Outsourcing Software Development for Innovation
With the rapidly changing business scenario and cut-throat competition, innovation has become the only way to survive and make your presence felt in the marketplace. For a business, this could mean constantly toying with new ideas, creating dynamic products, and offering exceptional services.
In fact, successful innovation should be an integral part of every business strategy, that can enable you to create more efficient processes for enhanced productivity and improved performance.
Today, companies in almost every industry are moving towards software innovation. As per a 2018 global innovation study, most of the companies will make a shift and allocate a big chunk of their R&D budgets towards innovative software and service setups by 2020.
Are you ready to innovate?
If you're also a software dependent company struggling to manage software development needs with your internal IT team overloaded with work, the simple solution is to think innovatively and outsource software development to an expert.
Is it a good idea, you wonder?
Absolutely! There are more than enough examples of successful companies which began as small level start-ups and took a leap of faith by outsourcing software development to achieve their goals much sooner than expected.
So, what exactly is software outsourcing, you ask? Read on.
When you outsource software development, you basically hire a third-party software provider to manage all the software related work which are generally done in-house. It is an excellent alternative for businesses looking for ways to achieve their ongoing goals while maintaining a cost-effective approach and reducing risks.
If you come to think of the benefits of partnering up with a software developer outside your own firm, there are many, as discussed in the next section.
Benefits of Outsourcing Software Development
If implemented correctly, software outsourcing can be extremely valuable for companies.
Here are some benefits you get when you outsource software development to a qualified company –
Advantage of leveraging outside talent pool
As per a recent survey, finding the best IT talent is among the most difficult jobs for CIOs. On the contrary, outsourcing software development to a third party gives you access to a well-qualified and talented pool of candidates from the IT sector. This translates to a quicker application development process and high-quality software products that you can make available to your intended users in much lesser time.
Cost-efficient and flexible
Outsourcing to an experienced software development company is an extremely cost-efficient option. The overall product development cost for a third-party service provider is much less as compared to internal expenses. This option also helps you eliminate your IT recruiting budget and get your work done at rather reasonable rates.
It also offers you certain flexibility by saving time in recruiting, training, and housing employees for IT projects. Additionally, you don't have to make any upfront investment in this option, which makes projects much more attractive.
Better management of customer expectations
When you outsource software development to an expert, you get the advantage of structured assistance in researching and identifying your target customer audience. This, in turn, allows you to manage customer expectations better by building the software project that they desire.
Access to expert domain knowledge
If you want to reap the benefit of working with innovative software experts with robust domain knowledge, the perfect solution is to outsource software development. Qualified and talented software outsourcing companies are equipped with multidisciplinary software competencies such as .NET, JavaScript, React Native, etc. to help your organisation grow and expand in the right direction.
Strategies for Outsourcing Software Development
So, you're convinced that software outsourcing is indeed a brilliant idea and you want to go for it too.
What's next is to strategize and plan before you outsource software development for your business. Here are some strategies that you need to be aware of before outsourcing to another service provider.
1. Identify the software function you need to outsource
First and foremost, you need to identify the business (software) function that you need to outsource. It could be either of the following-
The process of application development consists of developing a fresh application, quality assurance, system architecture design, or adding additional features within an existing application
In this function, the third-party service provider basically owns the organization and maintenance of data.
System integration is largely the process of connecting an existing app or physical and virtual components to create a more unified system in order to achieve better functionality.
2. Identify the outsourcing model
Once the function is chosen, the next step is to identify the outsourcing model that best suits your requirements. This could be either of the following-
In this model, the offsite service provider works outside the organisation premises. However, their office is located near the client. This type of model best suits the companies where the project requirements are not comprehensively defined.
As the name suggests, the onsite model involves a team of skilled software developers working on the client's premises and work closely with the client from start to end of the project.
In this model, the software development work is done outside the country at service providers' own premises. You only need to provide detailed project requirements and the development team will work accordingly.
One of the complex models for software outsourcing, where the client has both onsite as well as an offsite team of developers who work at various locations in different parts of the globe.
Parting Thoughts
It won't be wrong to say that outsourcing software development is now the primary key to a company's success. It is, in fact, the best alternative in the age of rapid technological advances. From staff training to payroll software, outsourcing can take care of it all.
Although there are enough and more reasons to choose software outsourcing as your path to innovation, the challenges that businesses face today is finding the right team to implement those innovative ideas or learning how to outsource the task to the most innovative software development provider.
The need here is to overcome these challenges systematically using the strategies discussed above and consciously pursue innovations and new ideas that can make your enterprise competitive. As per a recent Gensler survey, there is a direct connection between innovation and a high-performing workplace. Through outsourcing, you can take advantage of excellent workplace quality as a positive success factor without worrying about the budgets and costs required in setting up a high performing in-house software team.

Must Reads:[wcp-carousel id="9947″]
x
Have a tech or business challenge?
We can help!