As we move towards a more automated future, the state of home assistants is becoming brighter. More companies are creating sophisticated home assistants to bring engaging experiences to customers. They're perfect for interacting with patients suffering from Alzheimer's and are the right companion for younger ones to learn effectively. Developing home assistants is becoming increasingly complex and nuanced for that particular use-case.
Reports from CITE Research suggests that about 50% of surveyed individuals would want to have a home assistant that is more powerful and efficient. A robotic virtual personalized robot is a core component of 2030. In younger audiences, these technologies are focused on delivering use-base features. In older consumer groups (35+), there is greater emphasis being given to the quality of life enhancement. Owing to the unique requirements from each consumer group, including demographics, there is a broad scope in the increased integration of home assistants.
---
"Automation is going to play a huge part in tomorrow's workforce, where the next generation of robots isn't working to replace people but working alongside people to improve their lives and enhance their jobs," – Steve Carlin, Chief strategy officer, Softbank.
---
Their interactive nature makes them the perfect addition to any home, allowing for increasing depth in the scope of the technology. We see great advancements across voice, facial recognition and advanced NLP in the tech space. We're also seeing apps being explicitly designed to address the evolving nature of home assistants.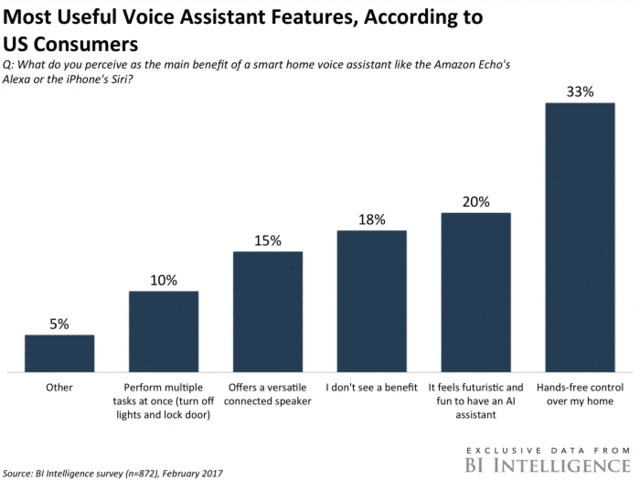 Image ref: https://www.businessinsider.com/google-bolsters-the-home-assistant-2017-5[/caption]
Consumer education and implementation have not been a challenge for many designers. We're so used to talking with Siri, Alexa, and Google that they've become a part of our everyday lives. Research from Adobe Analytics shows that more than 71% of owners of smart speakers use voice assistants at least daily. About 44% of them use them multiple times a day.
We've been conditioned to interact with machines for many years now. We're waiting, instead, for a completely autonomous home assistant that can create proper engagement within the space that it is designed for.
---
"Our vision is that customers will be able to access Alexa whenever and wherever they want. That means customers may be able to talk to their cars, refrigerators, thermostats, lamps and all kinds of devices in and outside their homes." – Steve Rabuchin, VP Amazon Alexa.
---
While Amazon dominates with 70% of the market, more players are entering the space of voice-based communication. More companies are investing in developing home assistants that can go beyond just voice.
As we move away from chatbots and AI-virtual bots, we're moving into a space of greater uncertainty. That's why defining the next steps in the development of home assistants is crucial. We need to refine our approach to reach a broader audience when it comes to the next layer of assistants.
The rise of smart assistant robots
Some of the leading companies in the world, including Honda and IBM, have been developing intelligent assistant technologies. This is taking robotics to another level, with higher processing speeds and increased outputs from AI mechanics. Facebook's Jarvis was another marquee event, which cemented the long-term desire for better home assistant technologies. While we're still in the realm of future-technologies, we see more significant advancements in the domain of AI and NLP. Here's a reference of the Virtual digital assistants' market.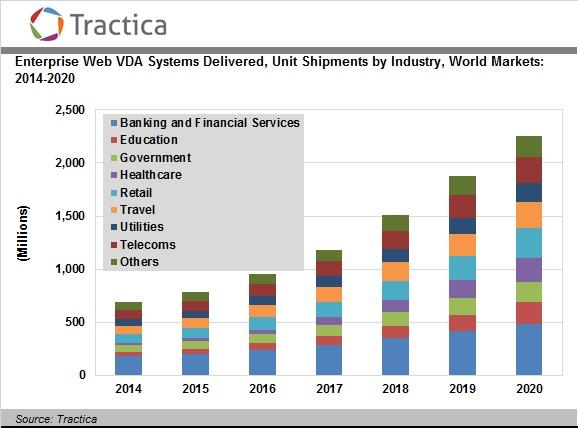 Image ref: https://www.tractica.com/newsroom/press-releases/virtual-digital-assistant-technology-is-expanding-beyond-smartphones-to-penetrate-additional-consumer-devices-and-enterprise-markets/[/caption]
Robotics and Ai Anki unveiled Vector & Cosmo, which is a second-gen robot that has a personality. This has made it popular among the customer community that wants to interact with their home assistants, rather than merely give it commands.
---
"For the first time, people will be living with a robot that can bring both a warm and joyful experience and a new and characterful form of utility, into the home. This builds a bridge not just to a new category of home robots, but our future product lines that will continue to expand on the level of capabilities that are possible." – Boris Sofman, CEO Anki.
---
Going off the popularity of playful robotics, this home assistant is the perfect one to engage with the whole family. It has educational and fun-oriented features that allow families to participate with it deeper. It also uses facial recognition, machine learning, and object mapping to get the more profound meaning behind the frame. It's also one of the few home assistants in the marketplace that offer coding opportunities for free-development. Children can learn the basics of coding when they play around with these technologies.
The best part about the Vector is that he can read the room for cues. When it understands facial cues, it can create an appropriate response. This is similar to any low-level intelligent creature that can interact using non-human language. It also connects to the cloud and shows critical information about your drive in the morning. It can also run with other automated features within the home.
Advancement in AI and Deep Learning
The home assistants market relies on high-quality AI processing and more in-depth deep learning interactivity. That's where most of the innovation is being expressed in the home assistant space. As AI advances to greater processing, there is increased emphasis being given to AI in the integrated area. Artificial Intelligence is working with neural mapping, image processing, and engagement from a more contextual perspective.
This is giving greater depth to projects that align with the overall goal of increased engagement. AI and deep learning are making it easier for home assistants to receive and process more information. With the rise of 5G, there are greater efficiencies to be explored in the area. The advancements in AI have enabled home assistants to connect seamlessly within consumer lifestyles.
We're also seeing home assistants becoming increasingly specified within unique domains. There are home assistants that work individually within an outdoor function, and some that function with consumers of a specific profile.
Research from Tactical suggests that similar robots will ship at around 65.9 Million units annually by 2025. The advancement of AI has led to much of the growth within the industry. As research behind AI progresses, we're going to see more sophisticated robots that emerge from the industry.
At CES this year, we've seen some incredible advancement being made in the field. From a market-utility stand-point, industry players are approaching the market from a proper perspective. They're designing feature-specific robots rather than ubiquitous ones that control the entire home. This is creating demand in the consumer domain, in terms of increased adoption.
One such example is LG's Lovot, which is a home assistant that is designed to provide a loving personality along with home automation capabilities. The robot is designed to engage with human owners on a deeper and more reactive level. With smooth engagement and an increasing emphasis on communication, LG is hoping to enter the home assistant space using high-tech solutions.
---
"The progress made by our entire robot lineup points to our commitment to deliver a robotic solution for the real world very shortly. With the ability to analyze and understand the surrounding environment, LG CLOi service robots are the culmination of significant investment in automation and artificial intelligence R&D." – Roh Jin-SEO, head of LG's robotics business.
---
Technology in addition to core AI and ML
What makes the home assistant space click is when additional technological advancements are being made outside of AI and ML. Companies can compete in the AI space and emerge with better processing systems, but they need to create additional technological advancements in hardware as well. That's where companies are using technologies that rely on input from multiple factors.
Advanced Luminosity sensor and integration
When it comes to luminosity, it's critical to have greater integration and more profound sensor technology. Brightness is a crucial input that can be leveraged by home assistants that can get a clearer picture of the environment. Whether that's image processing or understanding the time of day, home assistants will reach the next level using more advanced sensors.
Thermal camera (thermography)
Thermography will give us a clearer differentiation when it comes to picture the environment. It can help us distinguish between objects, as well as provide us with more in-depth information about things that are in the room.
Intake filters, signal processors & advanced discovery
The intake filter needs to be refined to a point where the informational architecture is more hardware dependent. Signal processors and advanced discovery algorithms can then help in clarifying what information needs to be shared.
Conclusion
Home assistants are being developed at a rapid pace across industries. From a technology stand-point, home assistants are uniquely positioned to integrate with home automation at large. Additionally, the technology can enable greater connectivity using Internet of Things, facial recognition and advanced AI programs. It is also providing a more robust framework for companies to create new experiences.
Home assistants are moving from simple robots to platforms for engagement. They're working in-sync with existing healthcare solutions and developing nuanced approaches for complex diagnoses. From the healthcare industry to general home automation, the use-cases for home assistants is increasing as we speak. The potential of the technology is limited only by the stretch of technical imagination.
x
Have a tech or business challenge?
We can help!