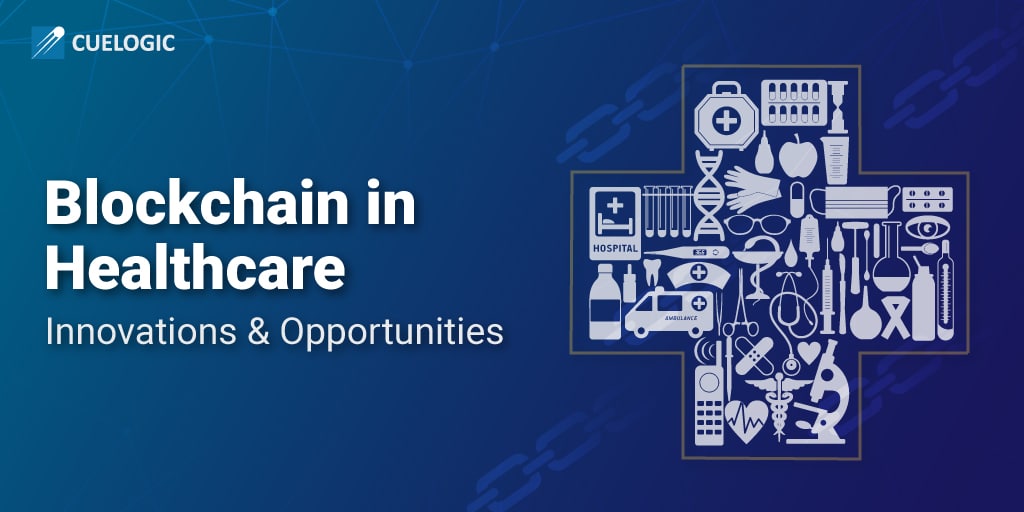 Home > Blockchain in Healthcare : A Case for Innovations & Opportunities
In taking a big leap in the healthcare space, the industry has taken a giant step for Blockchain and AI. It has introduced new tools that make the industry that much more secure, compliant and resource-intensive. The companies that participate in the healthcare space have also emerged as industry leaders by adopting core Blockchain technologies.
Research suggests that the global blockchain technology in the healthcare market is set to grow at a CAGR of 64%. The next few years are critical for Blockchain, from an adoption perspective. From a technological stand-point, Blockchain offers unique advantages that only technology provides. It doesn't have any other component or additional tech resources that can compete with it on this level. From data storage to interoperability, Blockchain has surpassed market expectations in the domain. The healthcare space is seeing multiple benefits from adopting this core technology and integrating it across security, privacy, compliance e, and regulation.
---
"There are four key-use cases for blockchain in the healthcare industry. The first two relate to applications for managing pharmaceutical supply chains' data and clinical trial data. A third use case relates to streamlining the processes for healthcare insurance subrogation. The fourth, and most ambitious, use case refers to using blockchain to store and manage patient healthcare records. In 2019, I expect to see continued work on all four use cases." – Robert Musiala, Blockchain counsel for Cleveland.
---
From a cost perspective, the savings obtained from the technology far outweigh the costs. The ROI on adopting Blockchain has been substantially overwhelming, with many companies using this as an integrated resource. The technology solution can also be installed on a need-only basis within specific domains that operate in the overarching theme.
Significant growth in the healthcare space
Keeping this integration in mind, many insurance companies and healthcare IT providers are also entering the field. They're working with some of the leading innovators in the industry while providing unique advantages to the firms. They're creating integrations with IBM, Google and Facebook to determine the best-case scenarios for increased value-add.
Both, Aetna and Anthem are working with Blockchain to introduce new value-add in the field. They're using the flexibility and the multi-dimensional capabilities of the technology to add more significant innovation in the space.
Through core technology, everything from data analytics to core healthcare processes can be better optimized. More insurers are also opting for smart contracts, which absorb information directly from the patient without requiring critical personal information.
---

"We are committed to improving the healthcare consumer experience and making our healthcare system work more effectively. Through the application of blockchain technology, we'll work to improve data accuracy for providers, regulators, and other stakeholders, and give our members more control over their data." – Claus Jensen, CTO at Aetna, now owned CVS Health.

---
This is a safer way to interact with technology and understand the value that it presents. Additionally, Blockchain in healthcare is proving to be beneficial in the EHR space as well. This has made doctors and specialists more connected with the information being shared across critical systems.
Retail-chain leader Walmart also obtained a patent to leverage Blockchain to be used for medical records and conducting overall research in the hospitals in the coverage network. This has helped them produce tremendous results within the space, thereby giving rise to a more coherent system of channels in the healthcare industry.
They can produce medication, release documents and remain compliant to all governing bodies that regulate the industry. Walmart doesn't then need to hire lengthy staff contracts to ensure that they're able to deliver the medicines on time every time. Using Blockchain is helping them be more in-line with the industry when it comes to the use of medicinal products.
Extensive research in the field of Blockchain and Healthcare
Researchers have been developing alternatives to traditional methods of storing information and leveraging databases. They're shifting to a more comprehensive model where Blockchain is being introduced as a viable solution. However, the field is still being dominated by technologists that have complete command over emerging technologies.
Technology firms are developing new formats of leveraging the core technology behind Blockchain. Researchers at Duke are working on new ways to integrated AI, Blockchain and new technologies to create higher value for the healthcare space.
Analysts are reviewing the research and concluding that the total impact is not limited to the Healthcare domain. The overall effect can be felt in multiple areas that connect the Healthcare industry. From medical devices to record storage, there are many options available in the healthcare space.
Ultimately, it boils down to how we leverage the power of these technologies from a holistic perspective. We need to combine the power of Blockchain with other technologies to create a more balanced approach to integration.
Blockchain use cases in Healthcare
Blockchain to increase Healthcare security
Blockchain has been leveraged extensively to enhance data storage and patient private documents. The technology has been used to ensure that the Healthcare value chain is self-sustained as well. This is important to know as many in the industry are exploring the full potential of the technology as well. They're developing nuanced solutions that rely on Blockchain technologies in the ecosystem. Ideally, the best way to approach Blockchain is to understand how it impacts the Healthcare space holistically.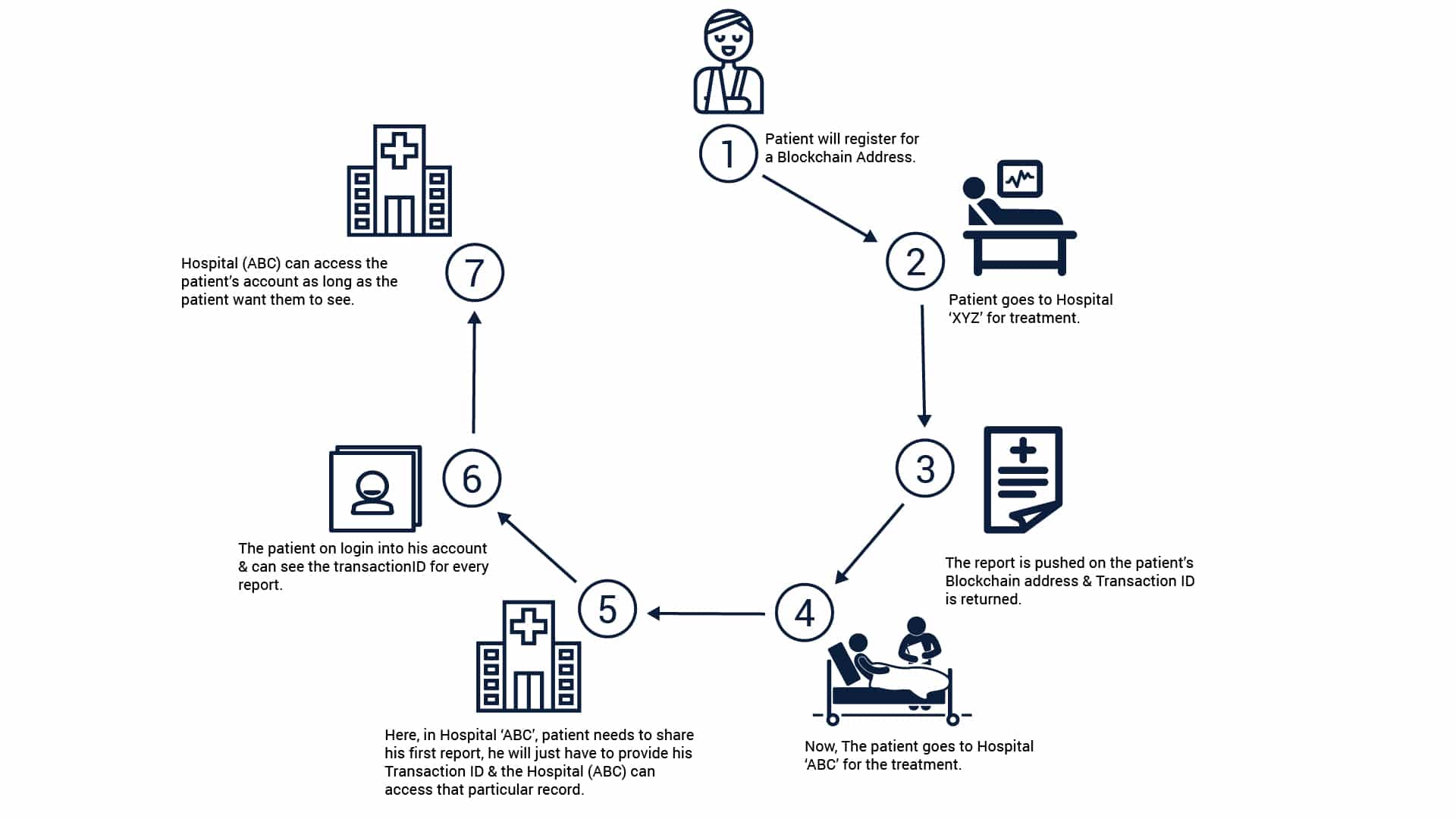 From billing to the patient introduction, there are multiple points in the patient journey that Blockchain can aid in. It can provide increased security in the value-system so that no information is being misused and all compliances are being followed as per norm. There is also greater control over the information flowing from one end to another.
From Healthcare fraud to incoming threat detection, there is the various application of the technology that is yet to be explored fully. Leaders in the healthcare space must look at the technology from a holistic stand-point and explore all options available. As a patient goes from one center to another, transferring that data correctly becomes critical. That's where Blockchain can share secure information across a laid-out pathway.
Regarding storing data away from traditional servers, Blockchain can facilitate that as well. The fundamental nature of Blockchain ensures that there are no single nodes that can capture the entire information at one point. The distributed ledger provides that there is data integrity as well. This means that all locations within the network contribute equally to the entire network's success.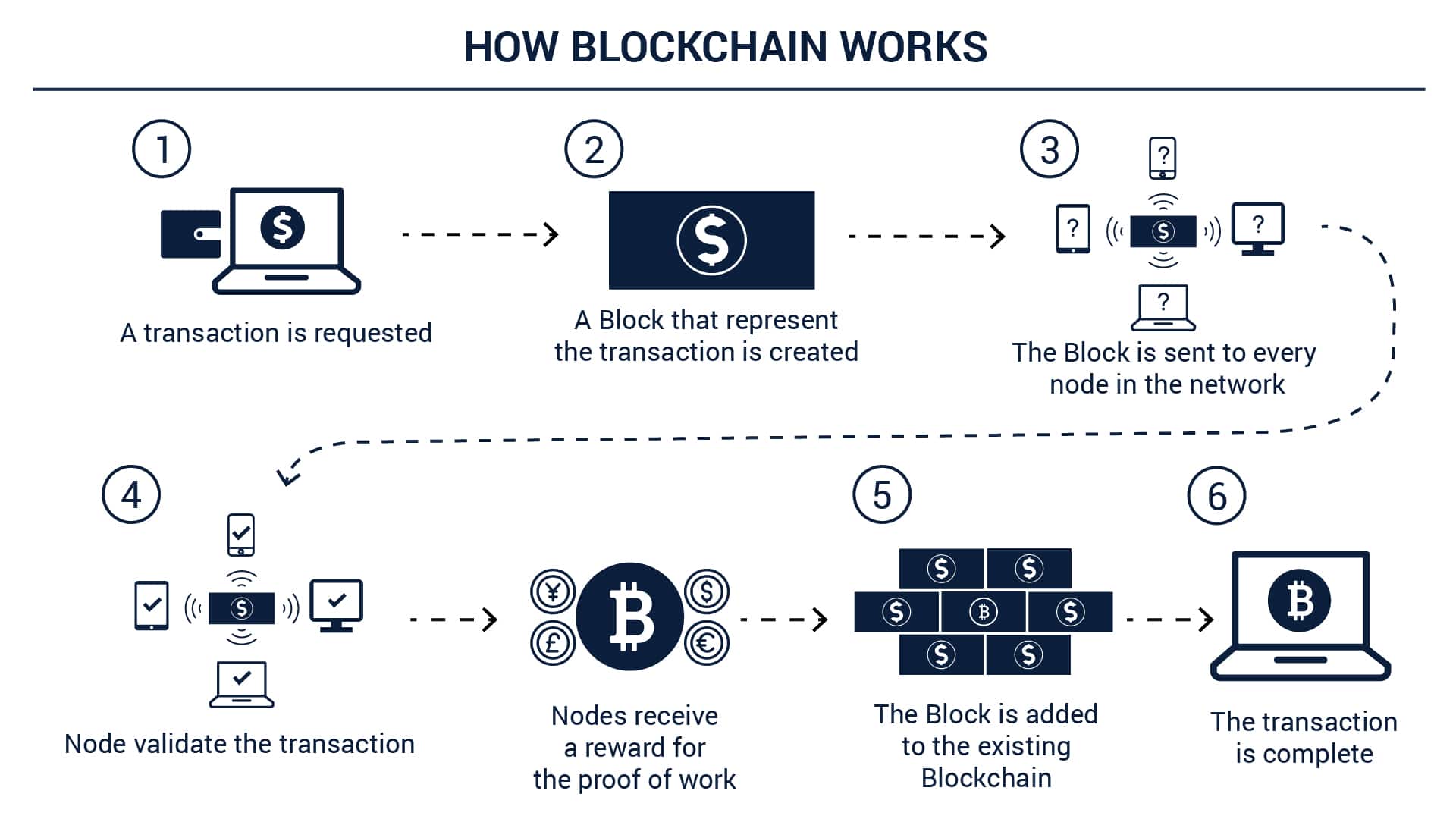 As we can see above, the Blockchain structure is highly complex but ensures that there is security built into the core system. All nodes in the network make the structure increasingly safe to interact in. This has enabled greater control using Blockchain, as more data can be transmitted using the technology. Additionally, from a purely functional standpoint, there are more significant advantages to using Blockchain over traditional formats. There are poorer control and fewer compliance measures present in usual standards. Additionally, the investment required to make a conventional data storage network security is immense.
Blockchain comes in and ensures that data are saving and cost saving benefits to storing data over the distributed ledger. There are also more significant advantages to having your data stored over Blockchain, as can be seen in multiple cases. There are ROI efficiencies built into Blockchain, along with the greater impact that can be seen with the technology.
Scanning for fraud in the healthcare space
The National Health Care Anti-Fraud Association (NHCAA) has reported that the total financial toll of healthcare fraud is close to $10 Billion each year. This includes drugs, delivery systems, and overall mechanisms that promote fraud in the healthcare space. This has led to multiple agents coming out with fake drugs and in many cases – phony equipment.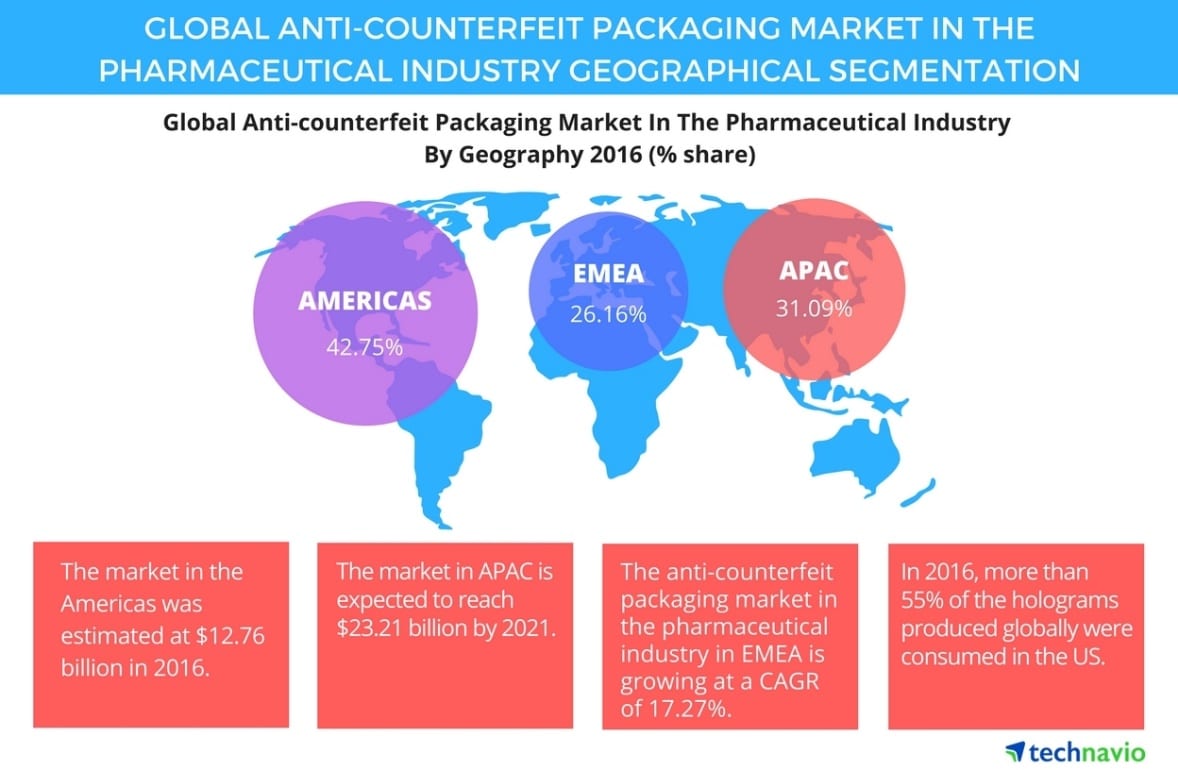 Image ref: https://www.businesswire.com[/caption]
While there are many forms of healthcare fraud, the overall objective remains the same – cutting costs for lower quality. This has overarching implications for space, including trust in the system. When trust decreases in the healthcare space, it leads to problems with security and enabling greater scale. There are also counter-measure mechanisms that aren't able to capture these issues in time. That's when there are loopholes that counterfeiters can leverage to take advantage of the system.
---
"Blockchain can mitigate the risks of a compromised supply chain — associated with counterfeit, unapproved and fake drugs. A Blockchain-enabled chain of custody model reveals where the drug was manufactured, where it has been since, and when it has been disbursed to patients. The impact could be huge — it's estimated that the pharmaceutical industry could achieve savings of $200 billion by introducing a blockchain-of-custody for the supply chain." – Rick Krohn, M.A., M.B.A., President of HealthSense, Inc

---
Here's where Blockchain comes in to provide clarity in the space.
Better authentication and monitoring
Blockchain provides greater authentication of the model across the board. Doctors, medical professionals, and researchers can gain the right amount of information based on their authentication level. Blockchain can check back against greater rules and authentication protocols that can be stored. Since retrieval takes less than a second, Blockchain can enable quicker authentication which dissuades hackers. The right individuals can gain access to the correct information and files at the right time.
Global Healthcare leader Merck has developed its own patented technology to authenticate physical medical devices and drugs using Blockchain. It's one of the more revolutionary ways that the company is combating fake dealers and drug counterfeiters. It does so by creating a digital fingerprint of the physical object in the digital realm. Then, after being authenticated, the agent has to scan the appropriate fingerprint. This enables for greater protection across the board via a more integrated model of authentication.
Package tracking and medicine zoning at scale
Blockchain can be used to restrict access to medication at scale. The technology can be used to retrieve packaging information that can define the role of the sender and the receiver. The overall approach taken by Blockchain can enable greater integration across the board. When a package leaves a certain facility, it does so with a tracking ID. The metadata, name, sending ID and other information gets retrieved via Blockchain to gain full access to relevant information. This makes the whole industry that much more secure overall.
At-source fraud detection via scanners
In remote regions, there are often manual or non-existent checking of fraudulent medication. This makes for a natural outlet for counterfeiters to take advantage of the situation. That's where Blockchain comes in and provides the right tracking and ID information to the source. Since it's a more efficient resource to deploy, even if any single server fails the network remains active. The data is archived throughout the ledger, making it easier to retrieve once the issue has been caused.
Patient identification with Blockchain
One of the more immediate applications of Blockchain, which many companies are integrating as of today is the patient identification model. Patients are increasingly getting lost in the system, with more data being leaked every minute. Analysts estimate that over 6.1 Million records have been leaked in 2018 alone, owing to lapses in security and mismanagement of the core IT system. This has led to a rise in Blockchain adoption, owing to the increased security it provides.
Ransomware and Malware are increasingly on the rise, with many companies not having a clear understanding of how to best manage information. Since information is present across various healthcare participants, it comes ideal to have a distributed ledger instead of a data warehouse for storage.
This has turned the healthcare space into a more data-oriented one and an industry that has adopted high-tech innovations. Blockchain fits perfectly into that model by offering a scalable solution that works in a technology environment. While the ecosystem is critical to maintaining, it's an ever-evolving domain that is highly relevant in the industry.
There are many companies in the Blockchain domain that are working directly with hospitals to ensure that the patient information is utilised effectively. Additionally, from a logistical perspective, it's a more efficient way to conduct hospital operations. The regularity and the structure that Blockchain provides is unparalleled when compared to standardized processes.
"Patient identification is a growing problem in today's healthcare system. This technology can help providers identify an individual with unparalleled accuracy, through iris-recognition and data matching. And because it's verified on the blockchain, it's scalable without sacrificing data security—which is one of the main problems with our current healthcare-data infrastructure." – Chrissa McFarlane, CEO, and founder of Patientory, Inc (Blockchain ID system)
Patient identification is one of the critical areas where privacy is being protected through the interactions within the healthcare system. More companies are urging for greater protection and patient ID via Blockchain is emerging as a strong contender. From a compliance standpoint, this makes complete sense. You want the entire healthcare system to remain as compliant as possible and keep all information secure. That's the best way to approach a complex domain like Healthcare while keeping all records protected.
Security risks with connected healthcare partners
With the healthcare industry getting increasingly connected, it's important to leverage Blockchain as a tool to protect all participants. From end-patients to the doctors on the field, it's important to keep all participants in the loop of Blockchain network security. Additionally, it's a safer way to approach this emerging technology as there are nefarious entities globally that want access to protected data.
The key here is to mitigate risk which can be accomplished via the following strategies –
Developing a robust private Blockchain network
It's important to have the right systems in place to develop a robust private Blockchain network. This private Blockchain will have the capabilities to keep the data secure and ledgers protected as well. Blockchain can enable greater protection for all parties involved and create a more collaborative environment. Data can flow smoothly from one end to another, without needing to worry about hacking or unauthorized points of entry. From a compliance standpoint, this is taking it one step ahead. This is showing your stakeholders that you're an increasingly compliant firm.
Decentralized authentication in Blockchain
While the Blockchain itself is highly protected, the area of access and authorization still requires some working. That's where bio-authentication comes in. A reference diagram is shared below. The authentication server and the client are both connected via the Blockchain, but access can only be provided when an additional parameter is presented. This parameter can be an access-oriented client or a biomechanical factor. This could be the physical authentication model or an additional channel of exploration.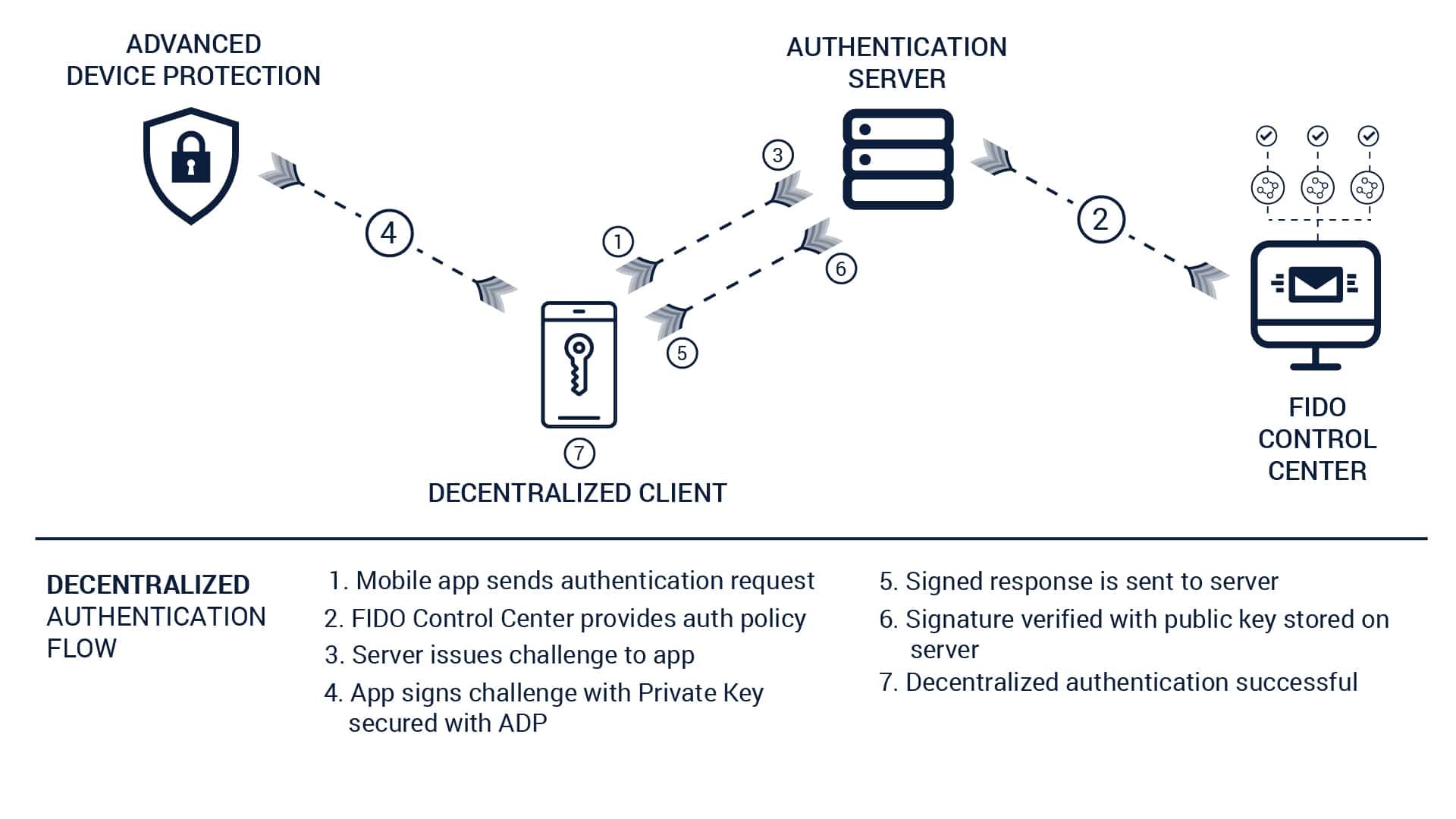 Global policies and mapping processes
For the Blockchain to be genuinely sustainable, it's essential to have comprehensive policies that work well within the framework chosen. These global policies are critical to maintaining across the board as the help in maintaining compliance. While the compliance framework differs from company to company, the goals are similar. The goals can be defined to produce more security measures and to allow employees to stay always protected. This is also important in the case where policies are ever changing, and there is a dynamic nature to Blockchain introduced.
Verifying network exchange via the ledger
If there is a ledger copy present on a particular system, then that's automatically verified to access the pertinent information. That introduces a layer of protection that can't be infiltrated. Therefore, it's important to not give access to that ledger to any other party outside fo the network. This is critical to maintaining, as any lapses may lead to unauthorized access by nefarious parties. While the device-level authorization is excellent, keeping that fixed copy of the Blockchain is critical as well. It's the best way to protect your assets and not land up in trouble if there is a leak. While most companies are focusing on increased compliance, few are developing actionable tools that allow for greater protection.
Integrating the Healthcare system via Blockchain
The blockchain is essential in bringing together all distributed parts into one ecosystem. The ecosystem is also robust enough to handle a plethora of information. Data is consumed at a higher rate, and there is protection across the board. The physician has all the information he needs, nothing more or less. The researchers have access to anonymous patient and healthcare data. The drug manufacturer receives the license and produces drugs across the range of applications. This is a fully integrated system that can be made secure using Blockchain.
Without Blockchain, any single point within the network can be made vulnerable to hacking. Each node would represent a point of access. It would only take one legacy computer or one network that doesn't have encryption installed end-to-end. Additionally, there is a stronger emphasis being given to node protection, which can ultimately be performed using Blockchain.
Regardless of what device being used, access can only be provided if the device has access to the network. That creates a primary security layer that can protect against hackers.
There is a condition where social engineering can be used to extract vital information, but that is a rare case in which data can be leaked. With the appropriate training and better policies, this shouldn't happen at all. Social engineering occurs when there is immense miscommunication within the organization about the security measures in place. The blockchain is ideal to implement, with each employee getting rough training around the technology.
Mitigating risk with Blockchain
Blockchain can be used to mitigate the risk involved with operating in the healthcare space. There are cases where the data system or network can go down within the company, or a DDoS attack can take place. Whether targeted or not, these attacks can prove to be expensive in resources and time consuming to correct. That's why it's essential to have the right tools ready to tackle any problem that may emerge from attacks like this.
Companies can enforce Blockchain related technologies across sectors, to enable better security across the board. This is also important in the case where there are third-party vendors that are non-compliant to overall policies. This is also important when there are existing partners in the system or clients that don't follow best practices in security and management. Additionally, they may leave gaps in their security models, which can allow hackers to take advantage.
Simple spyware or a hacked email account can be enough to attack the model as a whole. It may also be the prerequisite to a more consistent attacking format that can be utilized years after the initial placeholder is introduced.
Hackers can activate a giant hive attack onto the system and effectively bring it down completely. This can be achieved with a bit of savvy and a lot of hard work on the part of the hacker. Blockchain can provide the necessary software infrastructure for you to protect yourself completely. Healthcare providers can remain secure when they deploy Blockchain as a security infrastructure.
While mitigating risk is critical, it's also important to build security functions that can last longer than a few years. This is because Blockchain is continually evolving while giving rise to new formats subsequently. That's why healthcare firms must stay on top of changing technology integrations and understand the nature of technology as a whole. This can aid in enhancing security and remaining one step ahead of hackers. As Blockchain evolves, so too must the firm itself. This can enable greater integration across the board and allow the company to remain secure through elaborate changes in technology.
Digital is an enabler in the field, as it provides the underlying architecture for better integration. However, companies must be quick to understand the challenges present as well. They must prepare the right strategies to mitigate risk across the board.
Blockchain for emerging technologies
Emerging technologies such as wearables and connected health-devices require the infrastructure, scale, and security that only Blockchain can provide. The technology can make it easier to connect integrated technologies and develop a more robust ecosystem. For patients that rely on wearable technology, implanted technologies, and connected attachments, Blockchain can be a more secure pathway to connect the information.
While data flow through the system, it does so by connecting various pathways within the network. The network itself becomes more dynamic, leading to multiple nodes that become engaged within the system. Blockchain can then be the source of interconnectivity and security for dynamic objects. Everything from drugs to medical devices can become connected using the Blockchain ecosystem and become used extensively across the ecosystem.
From a scale perspective, it makes sense to opt for Blockchain. The technology makes it easier to connect to the multitude of IoT and wearables pieces in the network. With more than 50 Billion connected parts in the market by 2022, there is a greater need to have them connected using Blockchain. All patient information, including fitness, health, and key metrics can be shared at lightning fast speeds. Blockchain allows for streamlined data sharing, and retrieval of pertinent information much quicker than traditional database networks.
Blockchain and compliance (HIPAA, GDPR, etc.)
Respect is a key issue when it comes to Blockchain and Healthcare. There are multiple participants in the Blockchain space, as agreement becomes increasingly complex over time. More regulations are emerging from compliance bodies about integrating Blockchain, with an increased emphasis on patient privacy.
Privacy is of crucial concern, especially after all the leaks and data hacks have taken place. As compliance becomes mainstream, there is more data available on the best methods of protecting private information. Blockchain comes out on top in all of these areas and delivers greater experiences across the board. To run an efficient network that spans across various segments within the healthcare space, it's critical to run a Blockchain network.
Compliance is an essential area of concern, and Blockchain is emerging as a leader in the space. By introducing better measures of protection and highlighting areas where improvements can be made, it's enhancing compliance holistically.
"You have to run [a blockchain project] through a risk analysis to figure out where the vulnerabilities might be, and then use that to come up with a plan to determine how you're going to address the vulnerabilities. Any time you're bringing a new tool in, whether it's blockchain or any piece of software, you need to figure out how that's going to impact your overall compliance. That's one aspect of HIPAA, and the other piece is: Who is operating the blockchain, where is all the data residing, and who might have access to it?" – Matt Fisher, Partner at Mirick O'Connell Research on Blockchain
When companies run a thorough risk analysis in the Blockchain, there can be gaps found and filled immediately. This makes it easier to remain compliant with HIPAA and GDPR. While information is being kept private, the transmission of information can also be kept secure. In the end, it's all about who is sharing critical information and how well they're sharing it across the network.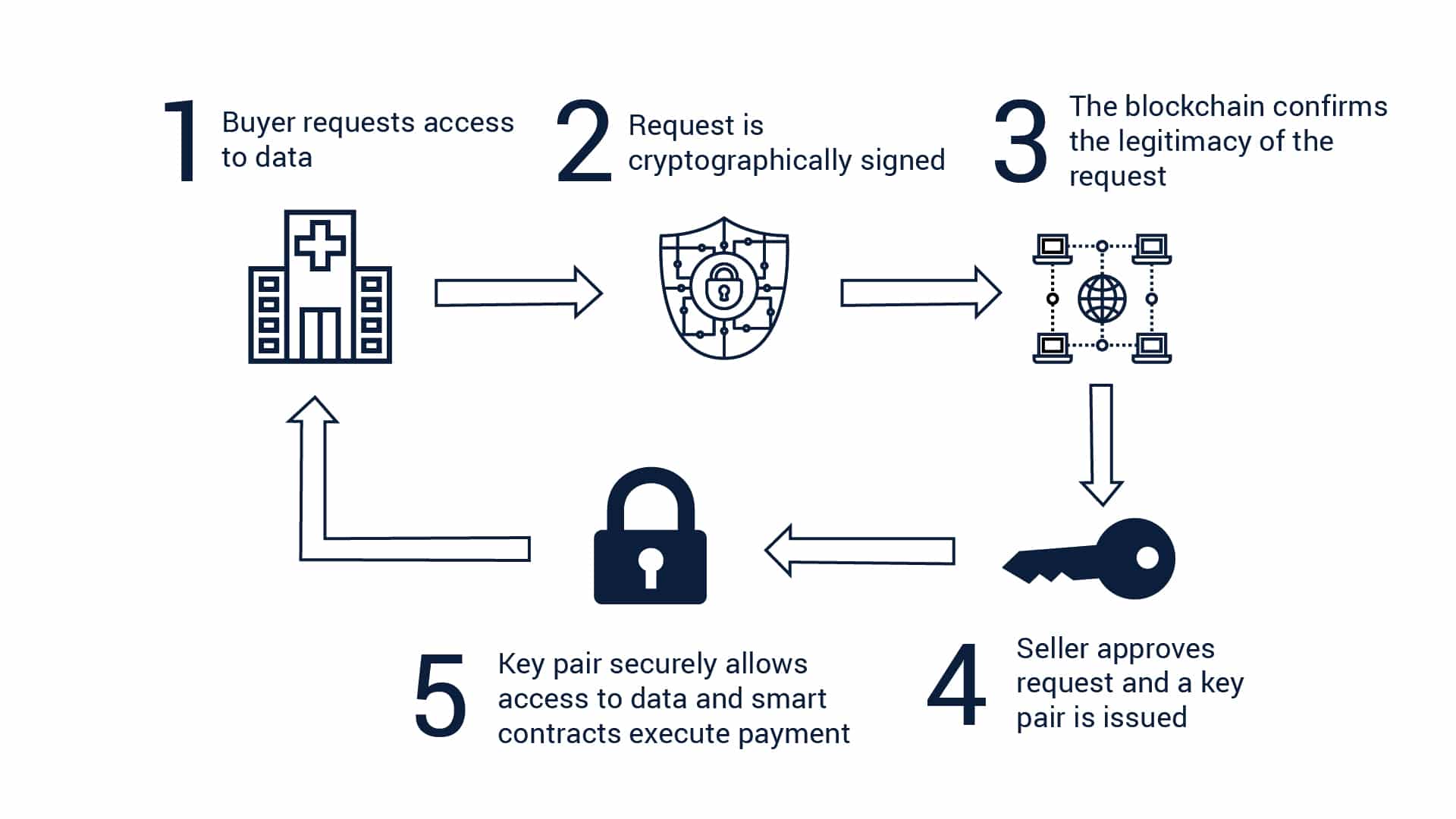 For a Blockchain to indeed remain secure, there has to be a layer of security embedded in it. This includes the compliance measures that must be placed outside of the core technology. From authentication to using end-to-end encryption, various end-point related tools can be used as well. While both HIPAA and GDPR govern data handling, it's important to understand the specifics that affect your company in the Healthcare domain.
PHI storage–namely EHR platforms, are also under the purview of compliance bodies. These technologies can be supplemented with Blockchain and made secure with policies that govern action. Additionally, these instances can be created that much more compliant when there is a general overview of regulation and rules. As Blockchain itself advances year over year, compliance bodies will be issuing out the appropriate guidelines. This will make the space that much more secure while providing greater protection to all participants in the area.
The challenge with Blockchain is to reach effective compliance. While that is easier on paper, when it comes to practicality, there are more significant challenges than traditional data systems. There is the urgency with Blockchain which is enabling greater integration across the board. Since more hacks are happening daily, companies want to invest in greater Blockchain integration. Additionally, from a security stand-point, Blockchain makes greater sense.
However, companies need to ensure that they're fully compliant when using Blockchain. The technology must be used in conjunction with existing protocols and made more dynamic within the healthcare space. This will enable greater adoption across the industry, as well as make the entire process more compliant.
Advanced AI and cybersecurity in Healthcare
Healthcare firms must remain compliant to all cybersecurity measures in place. This includes any additional support that third-parties need to put in place. This also includes healthcare specific technologies like AI and connected devices that need to be made secure with Blockchain. It is the technology leader that emerges on top, as well as the cybersecurity
---
"Cybersecurity mechanisms are no longer just an IT requirement, but rather a business need – from the basement to the boardroom. Organizations and enterprises dealing that deal with large amounts of data need to establish policies and train employees on how to handle sensitive data and protect the interests of the organization as well as its customers." – Vishal Kumar, Director – Cyber Education & Services, Quick Heal Technologies
---
Blockchain can provide the extensive cybersecurity infrastructure that companies need to remain compliant over time. As hackers continue to evolve, there is always the threat of using advanced AI to attack at scale. That's where healthcare firms are combining advanced AI with the capabilities of Blockchain to strengthen their defenses. They're no longer leveraging technologies against each other stand-alone. They're doing so with Blockchain integrated every step of the way.
This has made the process of protecting the healthcare firm that much more straightforward. The scale required to produce these measures is immense but needs them in a way that is more pertinent today. According to research conducted, 71% of legal heads don't believe that their client's infrastructure is secure enough. They need greater protection from data hackers and malware that can infect any single point within the network.
A survey from Deloitte also shows that tech companies researched didn't believe that their current systems were capable of fighting off attackers. 74% of respondents wanted to use Blockchain for greater cybersecurity. AI for cybersecurity is made complete with the integration of Blockchain in the system.
As systems evolve, it's essential to have a clearer vision around what the subject area is. If the research department receives data at an expedited rate, it can create the right features to ensure proper integration. If the patient, at the other end, efficiently receives quality care, then that's a win for Blockchain. The technology can strengthen every part of the Healthcare domain from privacy to regulation. It is designed to be scaled up, and many companies around the world are successfully doing so. They're also creating solutions that can be emulated by other countries and companies.
Blockchain has an active community around it, which is continuously innovating owing to its popularity in cryptocurrencies. This means that the technology will continue to evolve to greater heights. It also shows promise in the domain of AI and Machine Learning. As the developer community collaborates, the resulting technologies that emerge are that much more sophisticated. This means that there are higher returns from investing in Blockchain early on. That's why all Healthcare providers must launch their Blockchain projects now before their competitors and others in the space reach their milestones first. Healthcare needs to be made more digital safely and securely.
Conclusion
Blockchain has been one of the most revolutionary technologies to be introduced in the healthcare space. The core advantages of Blockchain far outweigh the integration challenges and the problems that might arise with talent development and specifics. Additionally, Blockchain has advanced to such a state, were Healthcare professionals are leveraging the technology regularly. They're processing data at a much faster speed and the information being passed on is interoperability compliant. Added to that, the technology has allowed for greater penetration of security tools, allowing healthcare participants to remain private and secure in their transaction. Sharing information within the healthcare ecosystem has never been simpler.
x
Have a tech or business challenge?
We can help!