If you browse through a wide variety of websites, one thing you will find in common just about everywhere is the search option. If you are a music lover browsing through your favorite tracks, a food blogger checking out new food trends from the modern city you are visiting, looking for your favorite artist playing their next gig or just doing window shopping on your favorite shopping app, searching is the essential part of any significant data-driven website. Without search or even a suitable searching mechanism your data is virtually inaccessible from the reach of your users.
So, to put it in simple words, your search engine's implementation is one of the essential parts of your web application. This drives users to the content they are looking for in the fastest and efficient way. This also brings up the discussion about selecting the right search tool for your application. There are multiple searches as service provider tools available to choose from.
Google Cloud Search
Azure Cognitive Search
SharePoint Online / Office 365 Search
Amazon CloudSearch
Amazon ElasticSearch
Amazon
Elasticsearch and CloudSearch are Amazon's cloud-based solutions for search. Elasticsearch is an open source solution, whereas CloudSearch is a fully managed search service. It is quite simple to set up, easy to, and a cost-effective search solution. Amazon CloudSearch is an AWS Cloud managed service that helps users to create fast, scalable, profitable, easy to setup search solutions for their applications. Amazon CloudSearch uses Apache Solr as the underlying text search engine, which supports full-text search, faceted search, real-time indexing, dynamic clustering, database integration, NoSQL features, and productive document handling.
You will be able to interact with Amazon CloudSearch through three service layers mentioned below:
Document service
Configuration Service
Search service
Your Identity and Access Management (IAM) policies will allow you to access, manage, and configure your Amazon CloudSearch services. The Configuration service and Document service are for developers to set up and maintain the CloudSearch domain and its data. Whereas Search service is client facing where developers and QA can verify the configuration, indexes, and validate the data. Also, this is exposed to the real world users where it'll cater all the search requests coming from either a web application or from a mobile app where the search domain is configured. Search service is also responsible for delivering fast, accurate, and real-time data for all the user queries.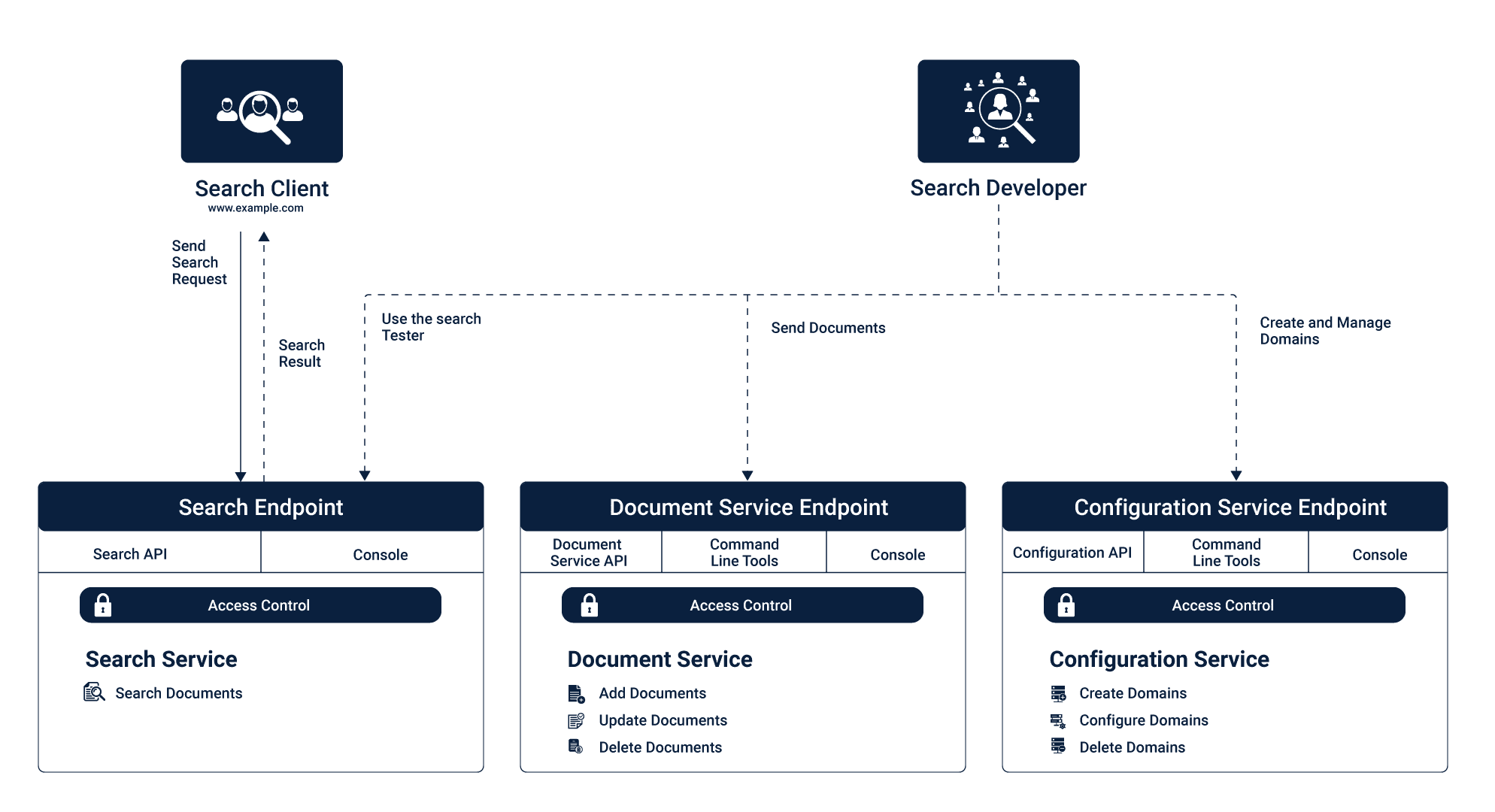 Document service
Document service is used to manage and configure searchable data of the domain. Each domain will have its endpoint. To upload your data, you need to format it into XML or JSON. Each item that you want to be returnable as a search response is called a document. Every object in your search response will have that unique document id and search fields that you requested in your search request. Document service also allows you to add new data anytime you want. Once the information is uploaded, it'll reindex automatically and will be available to search in just minutes.
Configuration Service
Configuration Service allows you to create and manage the search domain. This helps you to index, scale deploy it to multiple availability zones. This has quite a helpful step by step wizard to guide you through all the configuration steps for your search domain. You have to start with a unique name for your search domain, then configure the search index, set your scaling options and availability zone with the instance size.
Search service
Once all this is set up, you'll be able to test out your domain with unique HTTP endpoint and query parameters handled by Search service. Search service handles search and suggestion requests for the area. The search service will have a single HTTP endpoint for querying. You can configure your search results in either XML or JSON format. CloudeSeach supports rich query language that helps users to build search queries with related text search, range search, facet option to filter through options and other options to create composite questions.
Following are the main benefits Amazon CloudSearch provides that compelled me to use CloudSearch over other services:
Simple
If your tech stack is already hosted on AWS, then setting up CloudSearch is quite simple. You can set that up via AWS Management Console, AWS SDKs or AWS CLI. Adding data to your search is as simple as uploading a file(JSON, XML or text file) from AWS Management Console, browse your data and upload it. CloudSearch will automatically do the grunt work, identifies the file type, analyze the data, set up indexes, create a search, sort and facet options. The user has to review it and save changes.
Fully Managed
Amazon CloudSearch is a fully managed custom search service, where you will be able to pick your instance type, select availability zones, provisioning as well as scaling and partition using either AWS CLI or management console. Data uploading, reindexing, suggesting facet search options are all done from the quite intuitive and user-friendly management console, which helps to set up your domain and be ready for start testing it in minutes with simple wizard-based instructions.
Scalable
Scalability is one of the essential aspects when you are growing. The CloudSearch domain will autoscale as your data or query volumes increases. AWS CloudSearch will automatically scale up or down depending on your domain's as per its usage. So if the load increases, it'll scale up to meet the requirements and scale down when there aren't any significant number of queries.
Reliable
Reliability is most important when you are working with data that drives your applications search service. AWS CloudSearch has Multi-AZ options, so your data is secure of any hardware failure and also minimize latency. Search traffic automatically distributes across all available zones to meet the requirements and auto-scales depending on the load. It will make sure if one free zone fails then it'll request to next nearest data source and fetch the data.
High Performance
Performance is one of the most important criteria while choosing your search engine. Faster data delivery is one if the main reason many engineers migrate from having a self build searching mechanism from searching from DB to externally hosted search service like AWS CloudSearch. Automatic indexing, horizontal – vertical scaling, and distributed data give you all the edge for delivering your data with low latency and high performance.
Prepare your test data :
Now we'll show you how to create your domain on Amazon CloudSearch and set that up with your personal data. As we discussed earlier, you can upload your data in json, XML or text CSV file for your search domain. If you have your data, then you can upload that, or you can download a wide range of pre-formatted data from kaggle datasets. For this document purpose, I have chosen Google Play Store Apps data set. This data set has around 10.8K records; for this example purpose I have truncated it down to about 5K lines. You could do that with the following command.
head -100 oldfile > newfile
The truncated sample file is uploaded to https://github.com/akashs-cuelogic/CloudSearch. Feel free to use that.
Prerequisite:
AWS account !!
So these are the steps to set up your Cloud domain with your personal data set and start testing and tweaking with indexes and data configurations. There are multiple options available to do the advanced search options with nested and query suggestions that you can build depending on your search filters. We will try to cover in the next part. Amazon CloudSearch is a complete search solution which will allow you to scale and upload new data realine and make available to search in no time. With Amazon CloudSearch, one should be able to create their search domain, set search attributes, upload the data, and start testing them out in no time. It provides intuitive step by step wizard that will allow you to set that up easily.
x
Have a tech or business challenge?
We can help!