Innovation lab as a service is an approach of integrating innovation into your business by exploring, analyzing, and evaluating disruptive technologies and industry trends. Based on our thorough analysis and scientific approach, we build POCs, prototypes, and MVPs that are created to fulfill a specific market need.
Innovation Lab –
Finding the Unknown
Lean Startup Model for Innovating Products in Labs
Our Lean Startup Model paves the way to innovation by developing prototypes in an iterative and accelerated manner. Our teams do this without bringing about any major disruptions to your current processes, systems, and operations. With our prototypes, you can eliminate uncertainty and validate your product vision.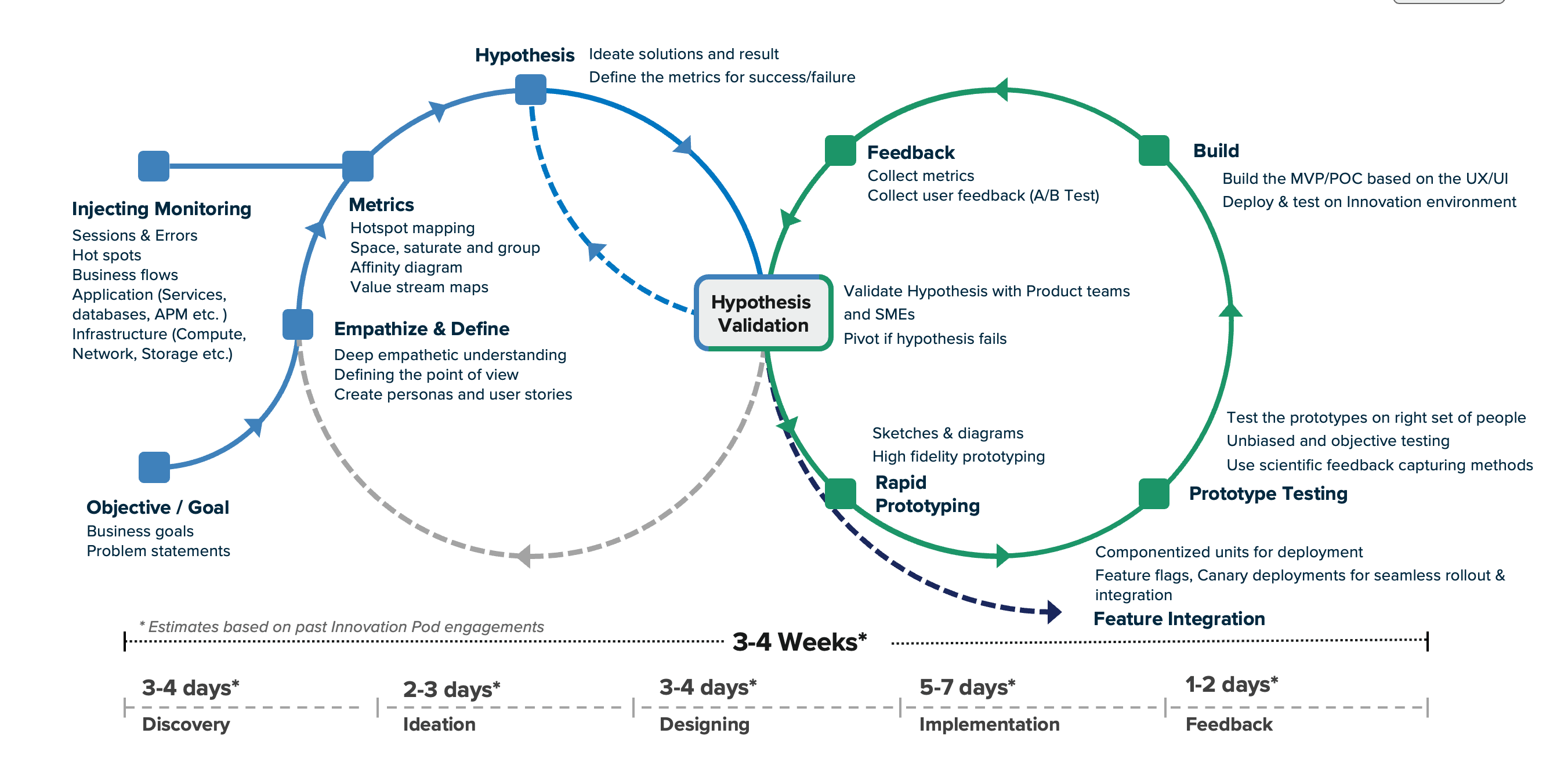 Principles of Innovation lab
Speed Over Perfection
Fail Fast & Save Dollars
Cost Effective Solutions with Latest Technologies & Techniques
Design Thinking Led Approach
Find the Unknowns
Our Key Value Proposition
Prototyping Speed
❯
Domain and Technology Agnostic
❯
Architecture Design
❯
Design Thinking
❯
Types of prototypes
❯
Cost & Duration
❯
Measurable Outcomes

Product Adoption
Daily active users / monthly active users
Net promoter score
Customer lifecycle value
User retention and churn

User Feedback
Solutions rating from key users
Solution design to capture experience & value
Functional, Reliable, Usable, Convenient, Pleasurable, Meaningful

Product Integration
Solution integrated with number of Internal Apps
Number of new products built on the solution shared

Observability & Analytics
Identify usage vs number of issues/failures logged
Number of web hits or number of API calls registered

What We Deliver
User Journey Simulation
Discovering user journeys for various stakeholders (end users, employees, and partners) across devices and channels. Grouping the user Journeys to product lines, and delivering prototypes with user simulations.
Workable Prototypes
Ranging from low-fidelity prototypes to high-fidelity prototypes in order to get a first-hand feel and early user feedback on features/products
Defining Future Product Roadmap
Enabling easy conversion from prototypes to a fully scalable and functional solution.
Well Architected Prototype Design
Cloud-native-based serverless architecture to reduce infrastructure costs and enable scalability for future productization.
Success Stories
We're helping organizations around the world to create software that helps to build and grow modern digital businesses.
Our cross-functional, product thinking teams are trusted by global organizations to deliver software at a greater velocity, create addictive and cloud-native products, as well as to build evolutionary architectures, robust infrastructures, and help make data-driven decisions.
Innovation Lab for a Leading Pharma Consulting Company
Qualitative Research Transformation with Audio Analytics
Deriving pain areas from Caregiver's experiences and providing insights for drug research
Patient Focused Drug Development | Competitive Advantage
NLP
Cloud
Visualizations
AI/ML
Analytics
Experience Transformation:
Clinicians | Researchers
Anomaly Detection in Clinical Data
Realtime anomaly detection from voluminous clinical data generated from variety of sources while providing 360-degree view to Data Stewards.
Increased Drug Safety | Patient 360 | Faster Anomaly Detection
Data Science
AI/ML
Cloud Native
Experience Transformation:
Data Stewards | Clinicians | Caregivers
Cognitive Risk Monitoring in Clinical Research
Identifying, assessing, monitoring and addressing any potential risks to maximize the quality of clinical trials.
Automated Clinical Audits | Clinical Site Monitoring
Visualizations
AI/ML
Cloud Native
Microservices
Experience Transformation:
Clinicians | Data Scientists
Intelligent Market Validation & Field Force Effectiveness
Intelligent territory mapping, management of marketing calls for medical representatives and optimizing their outreach to caregivers most likely to buy.
Linear Programming Optimization | Geospatial
Microservices
API
Cloud Native
Low Code
Experience Transformation:
MRs | Field Force
Incentive Management for Pharmaceutical Sales
Computes activity-based MR compensation based on pharmaceutical sales models.
Rewarding Incentives | Field Force Effectiveness
Advanced Visualizations
AI/ML
Experience Transformation:
MRs | Field Force
Patient Journey Analysis Across Digital Touchpoints
Sharing actionable insights for clinical trials by analysing the patient journey by drug classes, products, regions across digital touch points.
Clinical Trials | Patient Centricity
Experience Transformation:
Patients | Brand Managers
Our Thinking
Our insights cut through the noise and present tangible templates, roadmaps, and to-dos for leaders, thereby helping them navigate through the clutter. Our content helps you solve immediate challenges as well as build a long-term digital strategy.