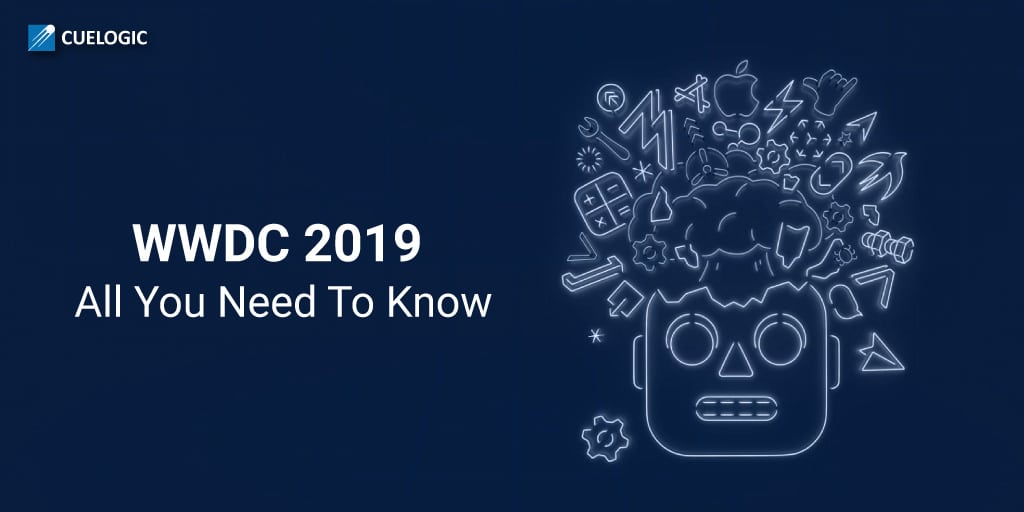 Home > WWDC 2019 – All You Need To Know
As every year Apple Inc. had its annual developer conference called WWDC (World Wide Developer Conference) in San Jose, California starting with a keynote. In WWDC 2019, Apple announced some really cool designs and features for the operating systems that run on iPhones, iPads, Apple Watches, Macs and Apple TVs.
In WWDC 19, Apple highlighted below major features:

iOS 13
It is iOS 13 which Apple announced during the keynote presentation at its 2019 Worldwide Developer Conference. Here's everything you need to know: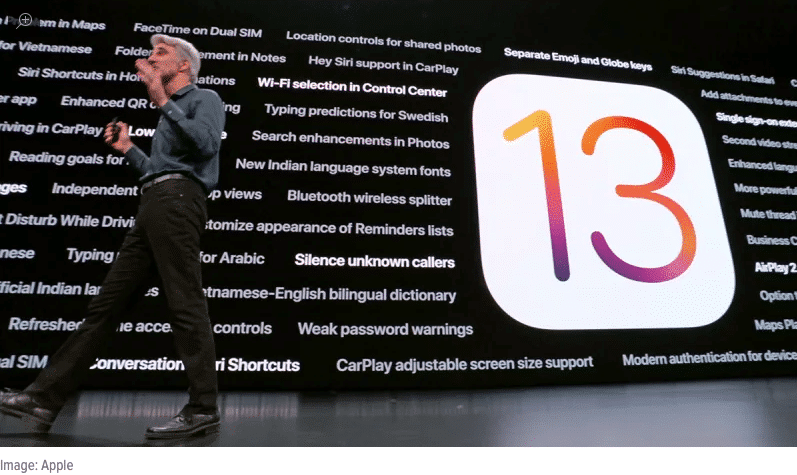 Performance
During the WWDC 2019, Apple's senior vice president Craig Federighi announced iOS 13 will have better performance with the following enhancements:
30% faster to unlock with FaceID.
50% smaller app downloads.
60% of smaller app updates.
2x faster at launching apps.
SwiftUI makes easier to develop UI in the apple.
Siri
Incoming messages will be read by Siri through the AirPods. User will be able to respond immediately.
Siri will be able to share music using AirPods.
There's a new Siri voice debuting with iOS 13, and it sounds more natural and less robotic.
Siri in iOS 13 sounds more natural and less robotic.
It uses advanced neural text‑to‑speech technology, according to Apple, and you'll particularly notice this when Siri says longer phrases, like reading the Apple News aloud or answering knowledge questions.
The use of advanced neural text-to-speech technology will be noticed when Siri says longer phases.
Do you know? Now, HomePod will understand your voice and when you ask "What's on my Calendar?" It will really bring your calendar. The HomePod response will be also personalized. Based on the user's taste and history, Apple will select the music.
Siri will play 100,000 stations from around the world from HomePod Live Radio.
iOS 13 Compatibility
| | | |
| --- | --- | --- |
| Device Family | Supported | Non-Supported |
| iPhone | iPhone SE,iPhone 6S,iPhone 6s Plus, iPhone 7, iPhone 7 plus, iPhone 8,iPhone 8 Plus, iPhone X, iPhone XS, iPhone XS Max,iPhone XR. | iPhone 5S, iPhone 6,iPhone 6 plus |
| iPad | iPad Air 2 or later, new iPad mini 4 | iPad Air, iPad mini 2 and mini |
ARKit 3
ARKit3 has new augmented reality features according to WWDC 2019.
With people occlusion feature, virtual objects can be placed in front of and behind people in real-time.
Apple's new RealityKit SDK provides developers with tools for photorealistic rendering, environment and camera effects, animation, physics, and more.
Use front and back cameras simultaneously.
ARKit 3 now has the ability to detect up to 100 images at a time, Also machine learning being leveraged to detect

Planes
enhanced 3D-object
QuickPath Keyboard
With iOS 13, Apple's default QuickType keyboard will be incorporating swipe-to-type i.e. to form words by sliding across the keyboard.
You can use the QuickType and QuickPath methods of typing interchangeably, and so far supported languages including English, Simplified Chinese, Spanish, German, French, Italian, and Portuguese are now included.
Sign-in with Apple
The new mechanism allows third-party apps to authenticate users using their Apple IDs.
Sign-in with Apple is more secure than Facebook and Google.
Silence Unknown Calls
Siri will filter your Contacts, Mail, and Messages to see if you've previously been in contact with the caller.
Silence Unknown Calls sounds fairly smart, if you're not expecting business numbers cold-calling you for work. Those that do call you and aren't on your personal 'VIP list' will go straight to voicemail.
Unknown calls that are not in the personal VIP list will go to voicemail.
Other Cool Features
iOS 13 has dark mode available now.
Memoji glow up with new beauty and accessory options.
iPadOS
It is confirmed that the iOS 13 update will not be available on iPads. Instead, Apple has announced a distinct operating system for iPads, called iPadOS.
Apple wants to distinguish the tablet experience from the iPhone, which should be exciting for both developers and iPad owners.
iPadOS offers improvements to the tablet UI which makes better use of a screen, Better tablet experience is introduced using new gesture control.
macOS Catalina
iTunes has been replaced by three apps:

Music
Podcasts
TV (coming later in the year).

The new apps can do everything that iTunes can do, so Mac users aren't going to be losing any functionality. As for device management, that's now done using the Finder app. Shows right up in Finder when plugged in Ipad and iPhone, with all of the same management and syncing features available.
For professionals, Apple also launched two hardware devices

Mac Pro desktop
Mac Pro Display XDR 6K monitor.
macOS Catalina compatibility
12-inch MacBook (2015 and later)
MacBook Air (2012 and later)
MacBook Pro (2012 and later)
Mac mini (2012 and later)
iMac (2012 and later)
iMac Pro (2017)
Mac Pro (2013 and later)
Other Fun Improvements
New startup page for safari browser that uses Siri Suggestions to surface commonly visited websites, bookmarks, iCloud tabs and more.
In the mail app, users can block messages from senders, mute message threads from issuing push notifications. Also, users can send unsubscribe requests from within the app to mailing list providers.
Reminders with the new user interface will let users generate, track and organize the reminders.
WatchOS 6
Apple has announced the latest version of the smartwatch software platform, watchOS 6. Apple watch will now directly download the app from the App Store. Voice memo for recording voices has been added in the reminder app. Also, the calculator has been introduced to do the calculations on the Apple watch's screen.
WatchOS 6 features
Accessibility settings on the watch
"Chance of rain" and "Wind" complications
Smart guidance in Maps
Apple Podcasts stations
Spoken navigation in Maps
Shared list in Reminders
Cellular connectivity complication
Workout summary on watch
Mute Email threads
tvOS 13
In WWDC 2019, The most important update coming to tvOS 13 is the new home screen, which will offer better recommendations for everyone in the family. By creating your own profile and based on that you will get TV shows, movies, and music recommendations.
Supports Xbox One and PS4 controllers.
tvOS 13 Features
To quickly enjoy great new TV shows, movies, music, and games, Now you can play video previews on the home screen.
Switch between family members to get the personalized entertainment experience. Key features by Apple TV such as system sleep and audio routing can be quickly accessed by the control centre.
Play personalized playlists and recommendations based on multi-user support. Quick access to currently playing song. Also, the user can follow on-screen lyrics timed in sync with their favourite songs.
Apple Arcade comes to Apple TV 4K. Six people in the family will have unlimited access to over 100 new exclusive games with a single subscription. No ads or purchases.Play Arcade games across iPhone,iPad, iPod touch, Mac and Apple TV.
Xbox and PlayStation game controllers. tvOS 13 adds support for Xbox Wireless Controller with Bluetooth and PlayStation DualShock 4.
x
Have a tech or business challenge?
We can help!