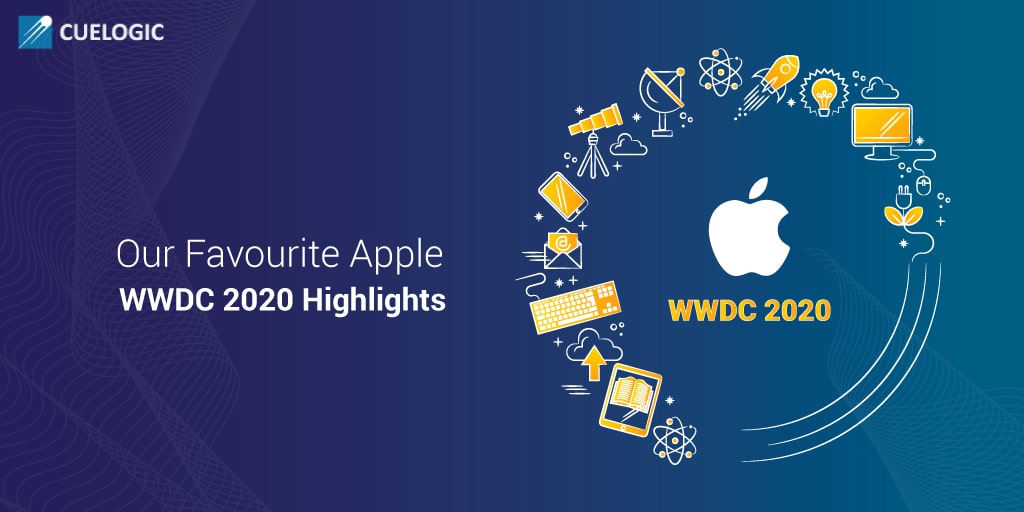 Home > Our Favourite Apple WWDC 2020 Highlights
As we know, every year Apple does the WWDC (World Wide Developer Conference) to showcase new iOS updates & features. Unlike WWDC 2019, this year's conference was "no in-person attendance" and streamed online through various Apple platforms and YouTube.
The key highlights were:
iOS 14
iPadOS 14
watchOS 7
macOS Big Sur
Apple Silicon


---
iOS 14
Apple has released some cool features in iOS 14. Here is the glimpse of it:
App Library | Home Screen
This is the easiest way to organize your apps. iOS automatically clubs similar apps into a single collection so that you can find them when needed.
Apple has added different widgets in sizes and colors and those can be placed anywhere into your screen by just long-pressing the Home Screen. The most commonly used widgets include Weather, Podcast, Health & Fitness, etc. which now provide more data to the users.
This new app will do multilingual translations on the go as you speak and landscape mode gives a split view in languages so that it's effective in terms of accessibility. This works with Apple's neural engine to compute the translations on the go.
Using this feature, you can still watch videos while you are on another app or home screen. The playing video will show a minimized window and it can be viewed full-screen once you select options available on the video player.
This is the core feature used in iOS and Apple has upgraded its Maps to have more detailed information with additional privacy. New features include routes for Cycling and EV for checking your car's battery charging status and respective stations (Apple is working with BMW for this)
By this, the users can quickly access the app features without downloading the actual apps. This will be faster and based on demand the user can open App Clips (if available) and do transitions using Apple Pay. However, it will also suggest downloading the respective app from the App Store to have full functionality.
Now when you speak to Siri or have an incoming call then the whole screen will not be blocked, it will just be a quick notification and the user can select the actions from it – without getting distracted with the ongoing work
---
iPadOS 14
This will be applicable to a variety of apps on iPads which will add more options to the user to select and navigate between the screens, folders, pictures, music, etc.
The universal search where it will just open the search text box anywhere on the screen and will do a required search for the user
Features introduced in iOS 14
iPadOS will also have same features of Home Screen, Widgets, Maps, Music App, Translator, etc
Scribble for Apple Pencil users
This will automatically convert the text in your handwriting to plain text which can be used in many places. It will also auto draw the shapes and suggest words which are matching the text.
---
watchOS 7
Watch Faces And Complications
When it comes to Apple Watch, watch faces are most widely used which gives a glance for necessary data on the main screen. This year Apple has added more complication families and support for developers to integrate with different third-party apps. Those are easy to choose and you can download or share from available options.
Apple watch now tracks your health and fitness more precisely around workouts. Dance mode has been added which analyzes your movement using watch sensors and track your calories, heart rate, etc
Using the latest hardware chips and machine learning, Apple will be able to track your sleeping activities and will show various data set by which you can analyze your sleep patterns, number of hours, DND mode, etc.
Accelerometer and Gyroscope sensors are being used to detect the handwash movement and Apple Watch will show you timer until you wash your hand – it will pause/start based on your hand movement
---
macOS Big Sur
Control and Notification Center
MacOS has clubbed important settings at one place where the user can easily manage the notifications and enable/disable settings.
There have been substantial upgrades to Messages and a variety of new memojis including the "FACE MASK" as well. It will work on Mac Catalyst technology providing new tools for developers to integrate keyboard, date-pickers, controls, and much more.
This year's macOS major update was on Safari and its privacy parameters. Now the user can choose when and what data to share and time limit to that. Apple also claimed that most visited websites render faster like 50% as compared to Google chrome.
This gives a refreshed look at dock to see all applications, switching between the window and more vibrant color temperature.
---
Apple Silicon
This is going to change the aspect in terms of hardware dependency for exiting Intel-based processors. Apple announced its own Silicon hardware which will compute fast transactions and make most of its eco-system through different Apple devices
This is going to convert the existing Intel Apps to run on Apple Silicon with minimal changes from developers. Apple claims that most of the apps will work seamlessly with new hardware but with increased performance. Apple demoed Microsoft/Adobe apps like (Word/Excel), Photoshop to use this high-speed processor, and minimize the computing time.
It will enable users to have Linux or other platform OS running on Apple Mac.
---
Conclusion
This year's WWDC delivered the expected outcomes in terms of improving the user experience for eco-system Apple devices. Customization in home screen, widgets, picture in picture and very fast – App clips will come really handy for Apple users. As usual, more focus in terms of data privacy i.e (Safari updates) will add benefit in terms of user's accessibility and trust in their products.
But the main game-changer will be their own set of hardware as Apple Silicon for Macs. Right now there is a dependency on Intel for providing chipset & hardware. In the coming year or so, Apple will slowly migrate Macs with their own chipsets, giving much more flexibility in terms of security and future product development.
x
Have a tech or business challenge?
We can help!