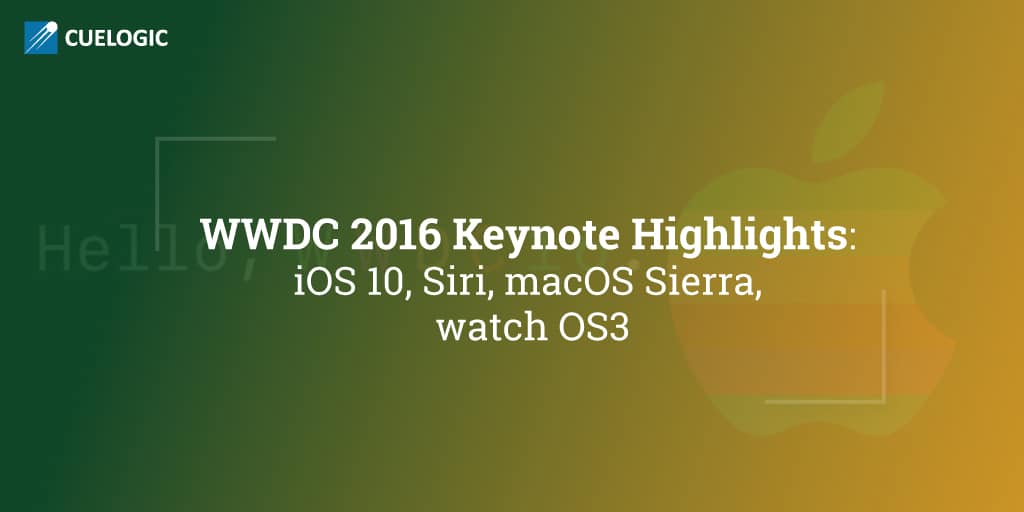 Home > WWDC 2016 Keynote Highlights: iOS 10, Siri, macOS Sierra, watch OS3
The Apple Worldwide Developers Conference (WWDC) 2016 commenced today in San Francisco on June 13, 2016. Apple covered four main platforms at the WWDC 2016 keynote: Apple Watch, Apple TV, Mac and iPhone/iPad. Four operating systems were discussed, a uniform naming format was given to the software platforms: iOS 10, macOS Sierra, tvOS, and watch OS3. Here are the WWDC 2016 keynote highlights:
iOS 10 (iPhone)
iOS 10 with quick app interaction, expanded 3D touch capabilities, redesigned lock screen.
Siri available to developers in iOS 10.
Siri supports VoIP calling apps and payment apps.
Many new iOS additions – Live Photos editing, Faster FaceTime connectivity, CarPlay app reordering, etc.
Emphasis was placed on protecting privacy to go with the new iOS 10 features.
VOIP API into contact apps, lock screen and in other iOS features.
Messages: Get emoji predictions while typing, hand-written messages, Digital Touch videos and photos supported. Messages opened up to developers (with iMessage apps).
Photos app has a new deep learning/image recognition functionality. The term 'deep learning' was mentioned often during the keynote.
A brand new designed Apple Maps – search for basic amenities like food, gas, etc. Apple Maps opened up to developers.
iOS 10 available in beta to developers.
macOS Sierra (formerly OS X) (Apple Mac)
OS X name changed to macOS.
Siri makes its Mac debut.
Tabs to be prime feature in all multi-window apps, built-in and third-party.
macOS Sierra available to developers.
iCloud Drive – fully accessible on macOS and iPhone. All your Mac files now available across multiple devices.
iPad
Swift Playgrounds, an app that will allow developers to learn to code in Swift on an iPad. "Best way to teach everyone to code," as quoted at the keynote.
Watch OS3 (Apple Watch)
watchOS3 available for download in beta for developers.
watchOS3 offers several new APIs for developers.
A control center for watch OS3.
SOS emergency services, press and hold slide button to call 911.
Instant launch, background updates, keep favourite apps in memory and refreshed information available on Apple Watch.
New scribble feature for responding to messages.
Just swipe to change watch faces.
tvOS (Apple TV)
tvOS has a brand-new Remote app.
Access all your network apps at a single sign in on Apple TV.
Devs get HomeKit, ReplayKit and PhotoKit, APIs and other new app building features.
tvOS available for developer preview.
HomeKit
New iOS app – Home. A Control Center that allows accessory control with a swipe feature.
HomeKit will now be available on iPhone, iPad and Apple Watch.
Apple Music
New design, simple, bright colors.
New features include swiping song to see its lyrics.
Apple News
Design that mimics the Apple Music design sensibilities.
x
Have a tech or business challenge?
We can help!